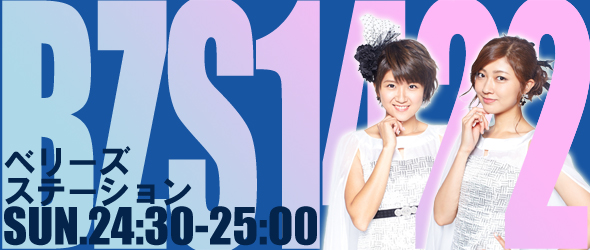 The signs of winter are starting to show. Chii asks Kumai-san what to her signifies the beginning of winter. To Kumai-san, it'd be when she starts wearing sweaters, and as it so happens, both of the hosts are doing just that today. Plus, she also feels that way when seeing the lineups at clothing stores starting to include things like mufflers and outer wear.
For Chii, it's when the city starts to look grey: everyone switches from their brightly-colored summertime clothes to grey, black or white. This is why she prefers the summer. Still, as she points out, it's not all bad: there's Christmas, New Year's, illuminations, otoshidama and New Year foods.
The two talk about the preparations they take for winter which among other things include buying lots and lots of HEATTECH products. This, the both of them say, is something absolutely necessary for winter. Kumai-san is still trying to get by without using them, but Chii has already given in to the temptation. There are also HEATTECH tights out there, and Kumai-san says that if she's wearing them it simply doesn't matter how cold it gets outside.
Kumai-san: Bring it on, winter.
Song: Berryz Koubou – Romance wo Katatte
Mail Corner
Fan mail #1: The listener attended Berryz' Halloween Naruchika concert where the members all dressed up as Disney characters. He asks why the two chose the outfits that they did.
Kumai-san reveals that she actually wanted to dress up as Ariel at first. But if she did that, she'd have had to dye her hair red, plus, she wouldn't have been able to move her legs — this can make dancing a challenge. But what's more is, she would've had to wear those shells. Kumai-san says she doesn't have that kind of sex appeal, and besides, it'd be a problem if some sort of wardrobe malfunction happened while she was on stage. She thus ended up going with Donald Duck to pair up with Miya's Daisy Duck.
Chii originally wanted to go for a much more authentic Buzz Lightyear, but then everyone started choosing these really cute costumes and she didn't want to be the only one in this really manly outfit. Chii suggests that if Kumai-san tries the outfit with shells next time, she'll also do a much more manlier Buzz Lightyear herself.
Chii: I hope we get to show you Kumai-san in shells sometime, so please look forward to it.
Kumai-san: (laughs) Yes.
Fan mail #2: The listener has noticed how the members are being more active with their blogs as of late, and they always enjoy reading and being healed through the their blog posts at the end of each day. They ask how they manage to constantly take so many blog pictures with other members where everyone looks so cute and happy, and how they should approach someone if they wanted to take a picture with them as cute as the members' blog pictures. They ask if they specifically agree on where to look and what sort of facial expression to have before snapping the picture.
Chii says it'd take ages if they had to always negotiate about how to take the pictures, and Kumai-san agrees, saying they don't do that. They know it's for a blog if someone asks them to take a picture together, and it just happens naturally. However, if someone says they're going to take a picture when everyone is eating, the food in front of her always takes top priority for Chii so she just keeps eating even as the picture is being taken.
Also, Kumai-san points out how the listener mentioned the members being more active about blogging and suggests that they were probably referring to her and Chii with this statement. Kumai-san especially has been blogging every day for over a week now which is a new record for her.
Chii has been blogging more often, too: she's basically started introducing stuff they have around her house. Also, when you open up her blog on a smartphone, it always shows the first picture of the post to the side of the post title. Since realizing this, Chii now tries to always use a picture with bright colors as the first picture so as to make it look better. She's started to coordinate her blog more like that.
Kumai-san: So rather than worrying about the actual number of posts…
Chii: Yes!
Kumai-san: It's more important to think about the overall quality of the blog, right?
Chii: Yes yes yes. And that's what you and me are doing, right?
Kumai-san: Right! Exactly.
Chii: It's no good concentrating on just one single post. You have to look at the big picture.
Kumai-san: Yes yes yes. (laughs)
Chii: That's all. (laughs)
Song: Berryz Koubou – Towa no Uta
Fan mail #3: The listener says he has a couple of questions. (Chii: "Please keep the questions to one per mail." Kumai-san: "(laughs)") He saw footage of Miya and Saki-chan talking about how they wanted to visit Kumai-san's house just to see what it's like, so he asks if the two ever did come and visit her. Also, he asks if Chii and Kumai-san have ever visited any of the other members' houses, and if any of them have ever visited Momochi's house in particular.
Miya and Saki-chan haven't visited Kumai-san yet. Chii says that she, too, is curious to know what her house is like, but Kumai-san says it's actually very ordinary — well, apart from the slightly higher ceiling than the average house.
Unsurprisingly, the listener's other two questions go unanswered.