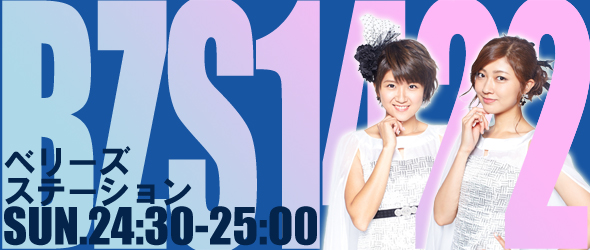 November 3rd is Culture Day in Japan, and Chii asks Kumai-san what the word "culture" first brings to her mind. For Kumai-san, it'd have to be art. She doesn't visit galleries or museums that much, but she does have a favorite style of art: trick art. A while back she actually had a blast visiting a trick art museum in Yokohama. Chii thinks she might like to go, too, and Kumai-san highly recommends it.
And speaking of art, on their recent trip to France Berryz got to visit the Palace of Versailles, which the two say is the very definition of art. This obviously gave them the chance to see some world-famous paintings up-close, and Chii remembers thinking to herself "ah, so this is what art is."
Berryz Koubou's final concert tour just started a couple of weeks ago. Kumai-san points out that it's actually their first autumn tour in four years, and above all it's just been really, really fun. But she's actually noticed her age catching up to her on this tour: sure, performing two concerts a day has always been tiring, but now it's started to affect her in all sorts of new ways. Nowadays, performing concerts makes her whole body hurt — long gone are the days when she could dance without a care in the world like the Kenshuusei girls now.
Chii doesn't experience any muscle pain or such, but she finds that she has to put in more time for mental preparation to be able to pull off the two performances a day — how you feel mentally also affects how you feel physically. Chii recommends that Kumai-san, too, instead of thinking "oh dear, I've gotten so old," she should phrase it like "I sure have grown up!" It's all about that positive mental attitude.
Song: Berryz Koubou – Towa no Uta
Yurina Kumai no Kumaranai Hanashi
Kumai-san talks freely on a subject; the staff decides if what she said was
interesting (Kumaranai Hanashi) or not (Kumatta Hanashi)

The trademark corner of BZS1422: Yurina Kumai no Kumaranai Hanashi! Chii reveals that it's actually the first time they're doing this corner since February, this being only the second Kumaranai Hanashi of 2014. As always, though, Chii is sure the listeners will be able to "enjoy and savor this corner just like they would the supple flavors of a good, mature wine."
Chii also states that this time it'll be her giving out the verdict on Kumai-san's story. The mood inside the studio is restless and heavy with expectation. So grab the popcorn and let's get right to it.
Kumai-san: Right. Well, just about two months earlier– two? Wait, three months?

Chii: Which?

Kumai-san: It was three months ago. I had my 21st birthday in August. And on your birthday everyone celebrates with you and you get all these presents, right? And I always really look forward to that. But among those presents, it's actually the present from my little brother that I look forward to the most. In my opinion, my little brother's presents… He has a really good sense for picking out presents! It's like, he'll definitely become a reliable man in the future. Yes, that's the one thing about him that I'll praise; other than that, he's no good.


Chii: Is that so?

Kumai-san: Yes. And on my 20th birthday, since that's the legal drinking age, he bought me this stylish, ceramic drinking glass. He apparently looked pretty hard to find a good one. So that made me really happy. But that kind of thing will only raise one's expectations for next year, right? So I was really curious to see what he would get me this time. But when it was my birthday, he didn't give me anything. I was like "Huh? Um, it's my birthday, you know." And he just said "Congratulations." So I was like "…What about my present?" and he said "I don't have one. I didn't know what I should get you." Still, I figured he'd get me one later, right? So some months later it was the birthday of my other little brother, and on his birthday, the little brother I first mentioned did get him a present. So I was like "Hey, wait, I didn't get my birthday present!" For that present, my little brother gave him a bag from a sport shop — well, it was soccer goods. But after that he finally gave me mine, too!

Chii: Your birthday present?

Kumai-san: Right! So I was like "Finally!" And when I looked… well, that, too, was a bag from the same sport shop so I was wondering what he could've possibly bought me, and suddenly I got really excited about it. So when I looked inside… it was maccha-flavored Alfort chocolate.

Kumai-san: "…Huh?" And it still had the sticker that said "100 yen"! So I was like "Hey, wait a minute. What is this?!" And he told me it was my birthday present. I asked him why, and the reason was that he just didn't know what to get his 21-year-old big sister. So he figured he'd just get me something maccha-flavored. That was apparently his train of thought. Man… I was shocked! Like, my brother's naive way of thinking that anything with maccha in it would do?

Chii: Yes.

Kumai-san: Big sis is very disappointed.
Verdict: Kumaranai Hanashi!
(Interesting/not boring)
Chii was struck by the nostalgia of hearing Kumai-san speak freely again for the first time in ten months. She says that it's not even a matter of whether what she's saying is funny or not; anything becomes funny when it's Kumai-san saying it. She could see Kumai-san was especially serious about this week's Kumaranai Hanashi, and instead of looking at Chii, she just stared in front of her while facing the microphone, focusing on her story. Chii thought that was funny.
Song: Berryz Koubou – Romance wo Katatte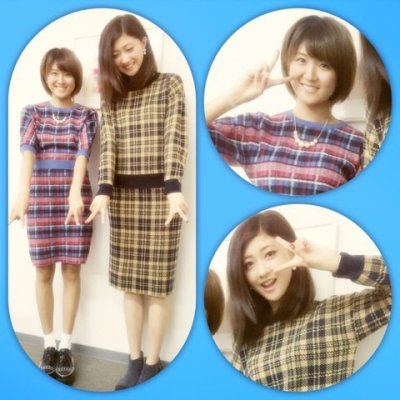 Mail Corner
Fan mail #1: The listener says they love BZS1422 and that they listen to the show every once in a while when they have the time. (Chii: "If you love it, then listen to it every time.") The listener has lately been watching lots of old clips featuring the group, and it struck them how cute their pronunciation was back then. As an example, he names the lines "mini toka haite mo UI no?" from "Nanchuu Koi wo Yatteruu YOU KNOW?" and "KYArafuru na jinsei" from "Waracchaou yo BOYFRIEND." But nowadays it feels like the members no longer sing those lines that way, so the listener wants to know why not, and how they felt pronouncing their lines in such an eccentric way back then.
Chii thinks that what it comes down to is that there weren't that many chances for them to try and sing songs in a cool way before, so they'd all try to change the words just a little bit to leave an impression — this is actually what she once heard their sound director say.
Kumai-san, too, remembers her line in "Fighting Pose wa Date ja nai!" that she sang as "kono KYOI no yukue" — nowadays she just sings that same line normally: "kono koi no yukue." She thinks that singing it the original way now would feel a bit embarrassing. Kumai-san figures that when they were little, you could just chalk it up to them trying their best and being cute. But now, if someone heard them sing that song for the first time, that person would be confused as to what they'd just said.
Fan mail #2: The listener saw the first performance of Berryz' most recent tour from the very first row, and thanks to that, there were several moments during the concert when he felt like his eyes had met with the members — he doesn't know if that's just wishful thinking on his part though. He thus asks the two if they notice their eyes meeting with fans during concerts, and if they send any signals to the fans at moments like that to let them know.
Kumai-san assures the listener that if fans feel that their eyes have met with the members, it wasn't just their imagination: their eyes really did meet. Chii agrees.
The two both think it can be a bit embarrassing especially at Naruchika concerts where it's often the case that when they sort of look down and stand still as part of a dance choreography, their eyes will actually be on the same level with the fans' eyes. Chii mentions the fans with binoculars — "the ones who want to see all kinds of things more up-close" — and for her, she actually prefers looking at those people since there's an object between them so the eye contact doesn't feel quite as direct.
PS. To anyone wondering, I skipped the previous episode as I figured it wouldn't be of much interest to the average Berryz fan: it was pretty much focused on the guest of the week, Shimada Shuuhei.