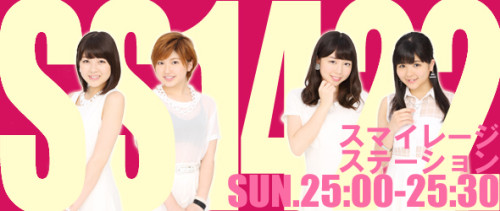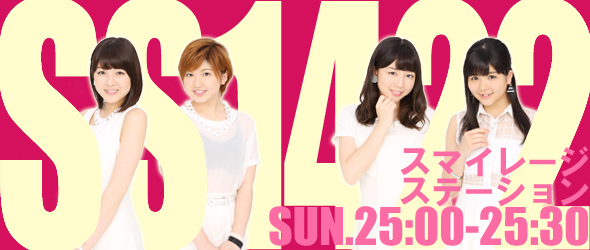 The Year's End
The show today gets off to a rocky start as Kananan accidentally introduces Takechan as "Takeda," and they cry as they realize there is only one month left in 2014. But that's okay, Kananan wants it to be over soon anyway. They also realize that the ending of the year means that S/mileage will officially be 9 members, however, and that is a very strange feeling. Kananan says that they've done a handful of jobs already as 9, but she's so used to seeing S/mileage as 6 that it's taking some getting used to. It's only 3 new people but it feels like so many. It's surreal for them to think that it will be a permanent change come next year. Then Kananan gets a little morbid.
Kananan: I do want it to be over… but I keep getting older every year and I'm going to die and no it's too soon! I don't want to die!
Takechan: It's a little early for that.
Kananan: No! I don't want to die…
Takechan: You're still only 17, though.
Kananan: I have so many things I still want to do…
Takechan: You can still do them!
In any case, they'll be doing Hello!Con rehearsals until the year ends.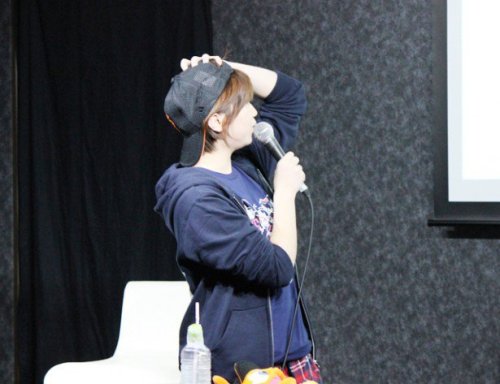 Remember when I posted that picture of a super cute and girly Takeda? Yeah, this is more like it.
So this week, as is the case in the last week of every month, is Power-up Week, or Pair-up Week, or Pears-world Week, or something. Kananan can't read it. Anyway, that means that two people who submitted messages and letters to the show will be drawn to receive autographed Smile Fantasy posters. The first name drawn is Higu, who writes that they have just started to like S/mileage. They were watching the 3rd gen announcement on Hello!Sta and then went back to watch some older S/mileage videos and found that they had a lot of fun watching 2nd gen. The last time they paid attention to S/mileage was during Samui ne., and they're shocked at how much better everyone has gotten in their last single at singing and dancing and being expressive. Right now they're taking college entrance exams so they want S/mileage to have fun in their place. The second name drawn is Miyuki, who drew pictures of AMeRiKa in their member colors in place of a letter. Congrats to the two of them.
Song: C-ute – Aitai Lonely Christmas
Nakani-Cinema Paradise
Nakanishi Kana reviews movies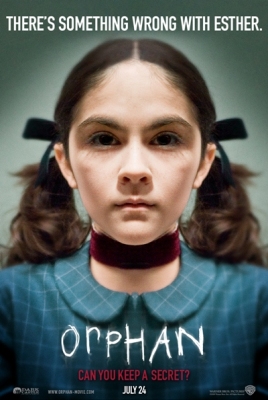 The movie this time is Orphan, a 2009 American horror film. Kananan fell asleep halfway through the first time she watched it, so she watched it again while on the road for their tour. The movie is about a family of 4 that decides to adopt another child after a miscarriage, and when they go to an orphanage, there is one child who is all alone and not playing with everyone else. After speaking with the child, named Esther, and finding her very mature, they decide to adopt her. One of the family's children is deaf and Esther becomes a companion to her, and she impresses her new mother by playing piano very, very well. "It's like Chopin-level," Kananan says. There are a lot of mysterious things about Esther, and the family's other child expresses his dislike of her while the mother starts to suspect her strange behavior. The father, however, defends Esther and refuses to listen to criticisms about her.
The movie builds suspense through questions and puzzles about Esther, who is seen in the movie very calmly killing animals and gradually revealing her true nature. Kananan won't spoil the ending, but she will reveal that Esther is not actually 9 years old, as she leads everyone to believe (that is kind of a spoiler, though, sorry). She thought it was an interesting movie, as it's a horror movie that doesn't really feel like one. It's not a jump-out-of-your-seat monster or ghost movie, it's rather simple and an everyday life kind of horror movie. To be honest, Kananan actually sympathizes with Esther. Well, she doesn't go around killing families, but she thought she would hate Esther all through the movie, but she ended up seeing how lonely Esther was a human being and could understand and pity her. She pities the families she killed, too, obviously, but she thinks that as troubled as Esther was, there was no one there to help her and save her when she was at her worst. Kananan thinks that this film tries to show everyone the evil in their own hearts and to elevate the perception of humanity. She watches a lot of movies and often forgets about a lot of them, but she always remembers ones like this that leave a psychological impression on her.
Song: S/mileage – Mystery Night!
Fan Letters
This letter comes from Sayuru, who wants to thank Kananan for her Nakani-Cinema Paradise corner, as it allowed them to enjoy movies that they otherwise wouldn't have seen. It's also fun re-listening to the show after seeing the movie and understanding all of her references. Kananan spends a lot of time thinking about the movies that she watches and how to best present them through the radio, so it makes her very happy to hear that it is reaching people in a good way.
Another letter comes from Mimichuu. They did not become a S/mileage fan until 2nd gen joined the group, and they don't think that the group was complete until 2nd gen came along. They write that they always look to 2nd gen and the radio show to cheer them up when they're sad or tired from work and hope that they will all continue to be positive and happy members. Kananan and Takechan are happy hear such high praise. Kananan says she might cry on the way home after hearing such nice things. Takechan urges her to keep it together because they still have to close out the show.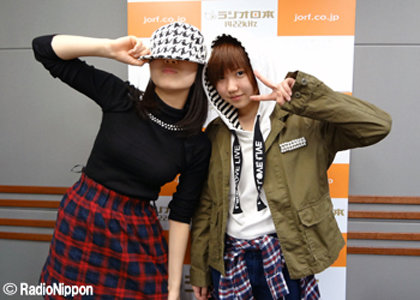 They apologize to the staff for messing up so much of the script this time. That's all from Kananan and Takeda!