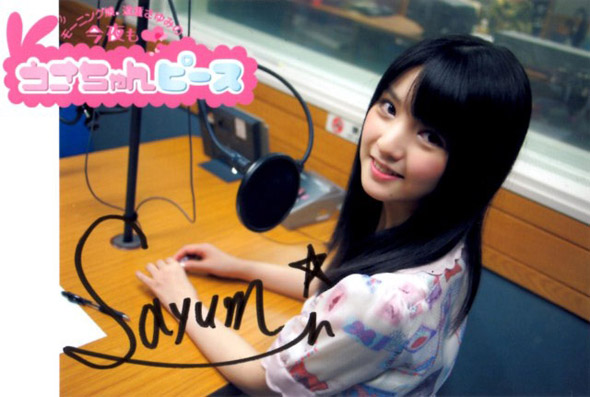 Speaking about Morning Musume's (and Sayu's final) appearance on Music Station the week before, Sayu talks about how the group have been invited on the show for every single they've released starting with "Wagamama Ki no Mama Ai no Joke," which was the first time back there in six years. Sayu still remembers the many emails she received when they promoted "Wagamama…" on the show: even many of her old friends from Yamaguchi sent her messages congratulating her.
However, Sayu only received one email after their "TIKI BUN" appearance on the show: it was from Kamei Eri, who complimented Sayu and said everyone looked really cool. But as for everyone else not mailing her about it, Sayu figures it must've actually been a good thing — in her mind, if people sent her lots of emails after "Wagamama…" because Morning Musume hadn't been on the show for so long, then they must've not sent her emails after "TIKI BUN" because seeing the group on the show has become something commonplace again.
Sayu also talks about how kind Tamori has always been to her. Whenever Sayu's appearing on the show, he'll remember her cutesy character and ask her if she feels she's cute that day. On this latest appearance, although he jokingly gave Sayu a kind of half-hearted reply on-air when she asked him if he thought she was cute, when Sayu asked him again after the broadcast, Tamori replied "yes, I think you've become even prettier than before." Sayu was happy to hear this from him.
Sayu was very glad to appear on Music Station one last time, and she'll look forward to seeing Morning Musume '15 on the show next year.
Song: Morning Musume '14 – TIKI BUN (album version)
Sayu no Kobeya
Letters from listeners
Fan mail #1: The listener was in the audience at the recent public recording of the show, and says the most surprising corner for them was the one where Sayu just played Dr. Mario as everyone watched. They praise Sayu for being genuinely good at the game and looking cute while playing it. Secondly, the listener asks Sayu to send a message of support to Suzuki Kanon who they expect must be full of anticipation and nervousness about picking up Sayu's time slot after Konya mo Usachan Peace ends.
While Sayu doesn't want to sound like she's making excuses, she does wish to say that she usually plays Dr. Mario on the DS and not on the Super Nintendo controller like at the event, so she couldn't do as well at it as she usually does. Plus, there's also the fact that she's been saying she's insanely good at the game for so long, she felt pressured about having to prove her skill to everyone. So while she's happy to have received these sort of messages of praise, she wants to stress the fact that she is in reality much, much better at the game than what was seen at the event.
Sayu says that Suzuki apparently is indeed feeling very nervous about her radio show, and she was saying that her nervousness is only made worse by the fact that she's starting in a time slot previously held by Sayu. She suggests, though, that Suzuki shouldn't worry about that at all: Sayu, too, didn't think at all about how she was following Ishikawa-san's show when she started Konya mo Usachan Peace. Instead of worrying about possibly being compared to Sayu, Suzuki should just focus on honestly talking about herself and what she thinks right now. Sayu says this kind of honesty will definitely please the listeners, too.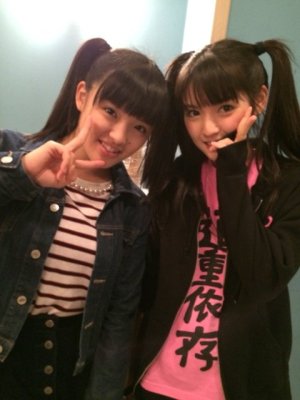 Fan mail #2: The listener says that reading Sayu's blog is part of their daily routine and that they like finding out about all sorts of different desserts through it. The listener asks if there are any cakes Sayu hasn't yet eaten that she'd like to try out.
Instead of answering the listener's question, Sayu just lists a bunch of her recent favorites in quick succession: shortcake and strawberry tart from a shop called GIOTTO, Mont Blanc cakes from a shop called Angelina, and pumpkin pudding from a shop called Cozy Corner. That last one especially was so good that Sayu had to go on a net patrolling spree to find out if anyone else had loved it as much as her, and she was very glad to find likeminded individuals out there.
Fan mail #3: The listener reports seeing the pictures on Sayu's blog that were taken with the other members behind the scenes of a recent handshake event, and he suggests that the members must've been happy to get those two-shots with her since "Sayu wearing the "Shabadabadoo" outfit is pretty much the pinnacle of cuteness." The listener guesses that while on tour the members don't often get to take two-shots together wearing anything other than the first and last costumes of the concert, referring to how Sayu is performing "Shabadabadoo" in the middle of the setlist on this tour.
Sayu says this is exactly right: usually everyone is just too busy to take pictures when the concert is underway. So on this day when Sayu did the handshakes wearing her "Shabadabadoo" outfit, the first thing Harunan said in the morning was that she absolutely had to take a picture together with Sayu at some point during the day. Before they'd even noticed, though, the day had come to an end without the two getting a chance to snap a picture together. Sayu remembered what Harunan had asked her, however, so she specifically waited and didn't change out of her "Shabadabadoo" outfit before they'd taken the two-shots.
Docchi wo Erabu? Nitaku de Pyon!
Sayu chooses one of two options sent in by listeners
Question #1: "Which would you like to be reborn as in your next life?"
A girl who is only moderately cute but well-liked by everyone
A girl so transcendentally beautiful, she'd make enemies of all other women in the world
Sayu chooses number two without hesitation. If she had a choice she'd of course opt to become a transcendental beauty, even if she did make some enemies in the process. Besides, Sayu argues, even the moderately cute girls are disliked by some people, and some transcendental beauties in turn are well-liked, so she suggests it's not even really about the face as much as it is about how likeable you are as a person.
Question #2: "Net Patroller Sayumin! What will happen during your break from the entertainment world?
I'll still continue net patrolling!
I'll also take a break from net patrolling!
Sayu chooses number one: she can't see herself giving up this hobby. It's become a habit for her at this point. Her big sister who's not in entertainment business is also an avid net patroller like Sayu, so although Sayu can't imagine herself suddenly not being busy with work after these 12 years, when she looks at her big sister it's obvious that she, too, will probably keep on net patrolling even when she's on her break.
Question #3: "Which of these would you like to do more once your break from the entertainment world has started?"
Dye my hair brown
Go on a vacation abroad with my family
Sayu chooses number two, not that they have any plans at this point.
Question #4: "If you could see a Morning Musume concert from the audience, which would be preferable?"
Seeing them up-close from the front row
Seeing them from the family seats where you could better appreciate the formation dancing
Number one it is: Sayu says she'd love to play a prank on Morning Musume, surprising them by suddenly showing up announced in the front row of one of their concerts. Later on she would tease them by giving them feedback on their performance, like scolding Ikuta about something or the other.
Song: Morning Musume '14 – Watashi wa Watashi Nanda!
Tottemo Moechau Mousou Sexy Word
Sayu recites innocent words in a sexy way
Sexy word of the week: "Gottsunko"
Sayu: Oyasayumin ♪