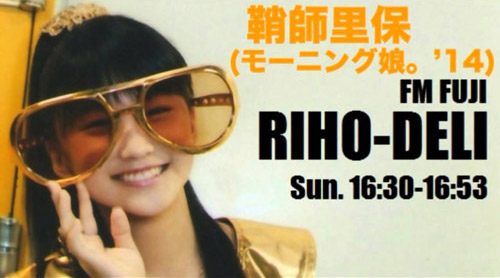 "It's the second half of summer!" Sayashi encourages everyone to enjoy summer fully until the very end.
Song: Juice=Juice – Kaze ni Fukarete
Sayashi talks about going back to Hiroshima the week before. On the flight back, coffee was being served. Normally, Sayashi doesn't drink coffee, and even when she goes to a coffee shop, she usually orders a sweet drink. But Sayashi is 16 years old now, so she thought she'd try it. And when she did, she thought it tasted really good. She felt like she had turned into an adult. She's had coffee with milk and sugar before, but this time, she drank it black.
She was so happy about being able to drink coffee that she ordered a second cup and somehow started to really enjoy herself. At first, she was tired and sleepy from playing around in Hiroshima, but after drinking coffee, she couldn't go to sleep anymore. She felt like only her eyes were awake and the rest of her body was still sleepy. The flight was an hour and a half, so she wanted to sleep happily like always, but she just couldn't. It was only afterwards that she remembered that coffee contains caffeine and that she probably shouldn't drink it before going to bed. It was delicious, but she regretted drinking it.
Sayashi says that when she got home, she thought she'd write a blog entry, but her hand was shaking so much that she couldn't even hold her phone. She thinks that maybe because she hadn't been drinking coffee before, when she suddenly drank a lot in one go, her body was shocked. Deli-kun thinks she got a bit carried away. Sayashi agrees. She realized that even though she may think, "I've become an adult!" as she grows older, she should climb up the stairs to adulthood at a steady and orderly pace. Deli-kun agrees that she shouldn't try to go up 2 or 3 steps at a time.
Song: Morning Musume – Morning Coffee
Shuwa Shuwa Mail Corner '14
Sayashi: Ok, let's move on to this corner!
Deli-kun: Hold on a minute!
Sayashi: What is it?!
Deli-kun: You were about to shout it out, right?
Sayashi: Yeah, totally.
Deli-kun: I'd like to read a letter now.
Sayashi: Right now? I haven't even done the title call.

But Deli-kun insists on reading the letter. "Konnichi-yassan!" The listener wants to request something regarding the title call for the corner. The listener wants Sayashi to see how long she can hold the "four" part when she shouts "Shuwa Shuwa Mail Corner One Fooouuuur" without taking another breath. The listener is sure that as Morning Musume's main vocal, Sayashi has greater lung capacity than others. Of course, she's not allowed to cheat by making her voice softer or anything like that. Deli-kun asks how long she thinks she can hold it and she says 14 seconds.
Deli-kun will start timing her as soon as she starts saying "four."
Attempt #1
Result: 9 seconds
Deli-kun: Hey! What's up with this?!
Sayashi: 9 seconds?
Deli-kun: You didn't even make it to 10 seconds!
Sayashi: Was 10 seconds always this long?
Deli-kun: Yup.
…
Sayashi: Um, can I make an excuse?
Deli-kun: Alright, let's hear it.
Sayashi: I had my voice checked to see what condition it's in. They used some precision instrument. I was told that everything is normal…except for my lung capacity.
Deli-kun: *lol*
Sayashi: I was told that my lung capacity barely made it into the normal range.
Deli-kun thinks that she has to become able to hold a note for more than 10 seconds because some songs might require it. He wants her to be able to do at least the title call for 14 seconds. Sayashi tries to weasel her way out of it, but Deli-kun calls her out on it and she apologizes. And so the attempts continue.
Attempt #2
Result: 11 seconds
Sayashi: I thought I was able to do it.
Deli-kun: Come on, you can do this!
Sayashi: Can I? Just 3 more seconds.
Deli-kun: Just one more time!
Sayashi: One more time!
Deli-kun: Get this done and we'll move on to the song. That'll be beautiful.
Sayashi: Ok.
Deli-kun: It'll be like, "Congrats!" and we play the song.
Sayashi: Got it!
Attempt #3
Result: 12 seconds
Sayashi: No way!
Deli-kun: That's too bad! It got longer, though.
Sayashi: Oh man, I thought I was lowering the bar when I said 14 seconds earlier.
…
Sayashi: My lung capacity isn't very good in the first place, right?
Deli-kun: Uh-huh.
Sayashi: I haven't found a way to maximize it yet.
Deli-kun: Are you just making excuses now?
Sayashi: Yeah, incessantly.
Deli-kun: Is it "Excuse Time" right now?
Sayashi asks him to give it to her as homework. Deli-kun agrees and raises the stakes by saying that next week she won't be allowed to read any mail until she achieves 14 seconds.
Deli-kun: I'm giving you a week to prepare.
Sayashi: Ok, I'll do some research on this.
Song: Morning Musume '14 – Toki wo Koe Sora wo Koe
Sayashi says that she talked to Deli-kun about the 14 seconds again and suggested that she can do it if she cuts out the "Shuwa Shuwa Mail Corner" part and only says "One Four." Deli-kun rejected it, insisting that she say the full name of the corner.