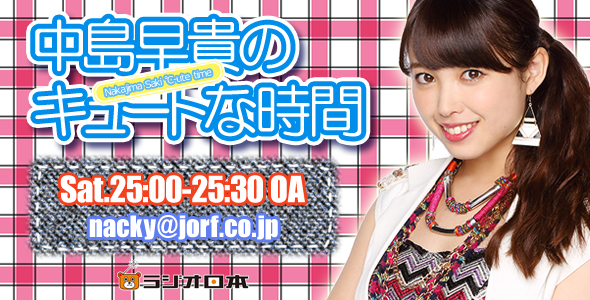 Nacky introduces her guest: °C-ute's leader, Yajima Maimi!
This is Maimi's first time back on the show since last coming on as a guest back in June, and Nacky says that she already noticed then how reliable Maimi is when it comes to doing radio together since Maimi has her own show, too. Maimi says she still remembers when Nacky started this show and how she had trouble reading aloud the contact information for the show without stumbling over her words. Nacky says she still has trouble with that even now, Maimi says she does, too, and they come to the conclusion that stumbling over one's words is impossible to fix entirely.
They talk briefly about the events they had over the summer. Starting with OTODAMA, Maimi says she had lots of fun firing off water guns and throwing water balloons at the audience. Nacky says their shows at OTODAMA always leave her with a sore throat since she has so much fun performing there.
As for Mezamashi Live, °C-ute appeared at the event with the band Akai Kouen. Maimi remarks how cool it was seeing a band play live, and how she hoped some of their fans would also become interested in °C-ute as well. Nacky remembers there being lots of young students at this event.
Finally, they appeared at SUMMER STATION, a new event that was held for the first time this summer. Since this event was in the evening, Maimi figured the heat wouldn't be that much of an issue, but she found herself sopping wet with sweat in no time. Regardless, they were both happy to see that the venue was so packed with people.
Song: °C-ute – Bagel ni Ham & Cheese
Mail Corner
Fan mail #1: The listener says they attended °C-ute's OTODAMA performance and miraculously they even managed to get into the front row. He says that out of all the concerts he's attended, this one was the most fun, the most tiring, and the happiest. He asks the two what the most memorable thing about this show was for them.
The listener mentions that something good also happened afterwards. After the show had ended, he noticed to his disappointment many empty bottles laying scattered on the ground. But when he asked other people who had attended the show if they could take any bottles with them, several people said "sure" and started picking them up. Someone even took out a trash bag and started cleaning up the trash left on the ground. Everyone did their part so H!P could continue to have these fun live shows at the venue. Finally, the listener tells the two to take care of their health — he says that while seeing Nacky and Maimi in performance is fun, what makes him the happiest is just seeing them being healthy.
Maimi and Nacky begin by saying what a nice person this listener must be, going through the trouble of cleaning up the venue for °C-ute's sake.
As for highlights from the show, the two both mention their cover of Whiteberry's "Natsu Matsuri." Maimi says she can't get enough of that song's rock sound and its tempo. Nacky definitely gets what the listener meant with the "most fun, most tiring, most happy" statement — that tiredness after the show is what makes it OTODAMA, and Maimi adds that it's indeed the good kind of tiring. If they do an event at OTODAMA again next year, they promise to make it an even more intense setlist.
Fan mail #2: This listener, on the other hand, attended the SUMMER STATION event. He says this was his first attended outdoor live performance and while he hadn't done much in the way of summer-like activities this year, this event definitely made him feel all summer-y. Watching the footage of the show broadcasted on TV later, he liked how the "°C-ute saikou" and "otsucurry rice" calls were both clearly audible on it. He thanks the two for the awesome summer memory.
Maimi said they were just doing an interview backstage after the show and they were talking about how loud the fans were after Maimai's spoken word intro at the opening of "Tokaikko Junjou." Just as they were saying that, the "°C-ute saikou" calls started and the girls were going "This! This is exactly what we mean!" They had lots of fun performing at Roppongi and they thank all the fans who attended.
Song: °C-ute – Shochuu Omimai Moushiagemasu
Fan mail #3: The listener says they attended Hello!Con the other day and talks about seeing Nacky and Maimi in the Dance Club that appears on the KOREZO pattern of concerts. He mentions how there's a segment in that pattern where °C-ute has to do three songs in a row — as a fan he's happy he gets to see the two a lot, but asks if it's a challenge as far endurance goes or if it only adds to their motivation. He also asks them to share any inside stories regarding the Dance Club and the shuffle units they're in.
Maimi says she actually really enjoys it since Hello!Con usually doesn't give them the chance to do many songs in a row. Nacky agrees, and says they could probably go for even two more songs in a row.
As for Dance Club inside stories, Nacky talks about how at one point in the concert she's dancing with Miyamoto Karin as her pair. The dance they're doing together is quite sexy, and there's this one part where they do an especially sexy leg spread. While Nacky already got used to doing sexy dances thanks to °C-ute's spring tour, Karin on the other hand looked quite embarrassed about doing the move at the rehearsals. That made Nacky realize how dangerous it is, getting used to things.
Maimi remembers seeing Nacky teaching Karin the moves at the rehearsals, and afterwards the two seemed to be getting along really well. This made Maimi excited about Nacky having a normal, human conversation with a kouhai — Nacky is notoriously bad at getting to know her juniors.
Speaking about her shuffle unit, Maimi explains that she's doing C/C (Cinderella Complex) with Shimizu Saki, Sayashi Riho and Ishida Ayumi. She talks about how now that everyone aside from Maimi and Saki-chan have graduated from High-King she didn't think she'd get the opportunity to do the song again, so she's really pleased it's included in the setlist. She says she was happy how her two juniors were actively asking her for advice on the song and its difficult, intense choreography.
Nacky: Ikuta told me she could replace Sayashi on that song at a moment's notice.
Maimi & Nacky: (laughs)
The two say Ikuta is funny.
Fan mail #4: The listener says he still has one bag of Saki Squid left that he bought at °C-ute's spring tour. The "best eaten before" date of September 16 is right around the corner, so he asks the two what he should do with it: eat it, or just keep it as a memento.
Nacky immediately says he shouldn't just keep it as a memento, and Maimi agrees, especially since the contents are visible. Nacky recommends that the listener eat it on September 10 (°C-ute no Hi) while keeping °C-ute in their thoughts, regardless of if they can come to Budokan or not.
Oyasumi Nacky
Situation: "Nacky as a convenience store cashier."
Nacky: Would you like me to warm up your meal? Or would you rather like to warm me up?