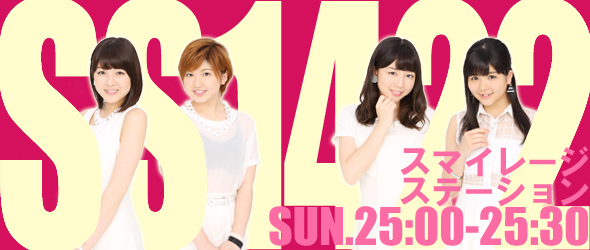 Summer is almost over, so Takechan and Kananan reflect on their summertime memories.  Kananan says that going to Odaiba with Takechan is a particularly summer-y memory for her, since they usually go every year. Takechan says she wants to keep going together even when they're old because it's so much fun, while Kananan mentions that they were even talking about going together earlier that day before recording, although they haven't been able to go yet this year. Too many concerts, not enough free time in between. Takechan says they have until the 31st of August so they'll try to go before then to keep up their summer tradition.
Takechan brings up the announcement Berryz Koubou made at the Hello!Pro Concert at Nakano Sun Plaza on August 2 regarding their indefinite hiatus beginning next spring. Kananan says that she first heard about it from the staff members and had no idea what that meant at first, but then when they went to rehearsals for the concert afterwards, she saw the faces of the Berryz members and was able to understand the situation better. Kananan recalls the stage play Warera Jeanne ~Shoujo Seisen Kageki~ that S/mileage and Berryz did together in which she and Sudou Maasa were cast in the same two roles. She and Maasa spent a lot of time together so it makes her feel sad to think that she won't be able to speak to her much anymore after spring. Takechan remembers that she sang Fighting Pose wa Date ja nai! for the first round of judging when she first auditioned for H!P Egg (even though she failed that time as a first-grader) and Berryz have always looked great performing that song. The S/mileage 2nd gen members were all scared of Berryz at first, but since they performed Warera Jeanne together they've gotten along very well. Takechan hopes that they all lead very fulfilling lives after this.
S/mileage's new single, Aa Susukino/Chikyuu wa kyou mo ai wo hagukumu, is going to be released in just a few days. Takechan talks about how S/mileage actually went to Susukino for the sake of the song. Initially she was skeptical, because she thought that it was in the middle of nowhere and that the only things there were for adults, but it was really very clean and nice. Takechan and MeiMei went back later to sightsee and eat corn and sushi and ride on ferris wheels. She also said there were lots of white horses (which Kananan kindly provides the English translation for) and carriages (which Takechan initially calls a "horse rickshaw") and she wanted to take a picture of them but the person riding the horses asked her not to, so she had to take a picture of them from far away. Kananan says she was glad in any case that they got to go to Hokkaido to campaign for the song. There are lyrics in the song that say, "Everyone I meet is so kind," and everyone there was very gracious to them. She's from Osaka and obviously loves her hometown a lot, but it was very nice to see that Susukino and Osaka had this quality in common so she wants everyone, not just people from Hokkaido, to listen to the song. For the other song, Chikyuu wa kyou mo ai wo hagukumu, something funny happened during the filming of the music video. Takechan says she thinks there might be something extra included on the DVD that you can't see on YouTube version of the MV… like Duu.
Song: S/mileage – Aa Susukino
Takeuchi's Giants 1 Million Energetic Happiness News Update

This is a corner in which Takeuchi gets to express her deep and abiding love for the Yomiuri Giants and baseball and she hopes that this will help everyone see the appeal of the sport and the team. Lately she's been really into high school baseball. She had always seen it on TV, but then she went to see a game live and thought, "This is awesome!" Then, Kananan has a question: do women play baseball? Takechan says they do! They aren't really famous or anything, but there are professional players that are female. Kananan says she knew that soccer has female players and such because of Nadeshiko, but she wasn't sure about baseball. Takechan thinks Kananan should try out. Takechan goes back to the topic of high school baseball, saying that she enjoys going to games because with pro games, although there are various types of people in the audience, it's mostly old men whereas the high school audiences are people around her age or in their 20s, with more girls. The games are also quieter, with the exception of classmates of the players who bring cardboard signs with their friends' names on them. Kananan said her grandmother did the same thing to her at an event. They're also cheaper, at 500 yen per game, and the seating is open so she can sit wherever she wants. Koushien is coming up at the end of the season, so everyone should watch and cheer on the high school team from their prefecture.
Song: S/mileage – Chikyuu wa kyou mo ai wo hagukumu
Finally,
Kananan: (snickering) Thank you… The Jomon Period… (laughs) The Jomon Period.
Takechan: So with that, good night.