JOURNEY
This week's opening topic
"Journey is apparently another word for travel," Kame helpfully explains. But since Kame doesn't have a blog unlike some of her fellow members, fans may be wondering what she has been doing as of late as far as traveling goes. "What exactly did you get up to for those five days of summer vacation we got?," Gaki-san asks. During those five days, Kame went to have a massage (thrice), she bought new clothes, and she went to karaoke with her family. "That's pretty much it," Kame says. In other words, the word "journey" didn't have much at all to do with her summer vacation: she simply slept and ate as much as she wanted.
Meanwhile, Gaki-san went to Hokkaido with her family for four days and three nights. They rented a car and drove to places like Asahikawa and Furano. Her family avoided the city for the most part and just enjoyed the mountains and such — they even did some mountain climbing. Gaki-san feels like she got to spend her entire summer vacation surrounded by nature. She names the Asahiyama Zoo especially as one of the highlights of her trip.
Song: Morning Musume – Onna ga Medatte Naze Ikenai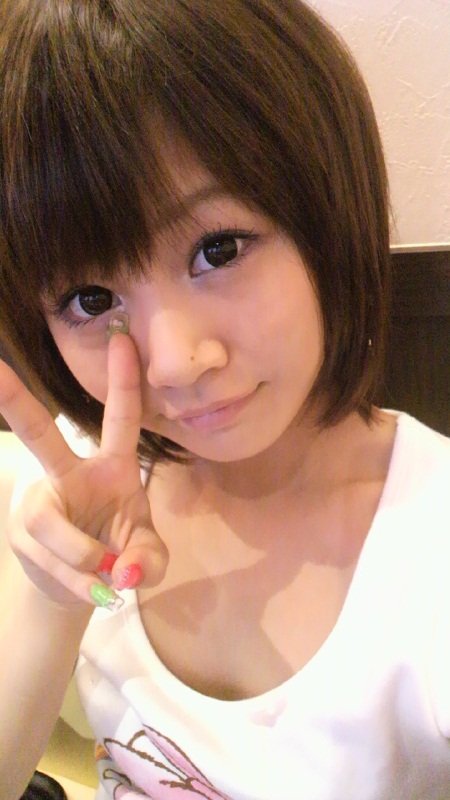 Fan mail #1: The first listener has a very serious problem that he wishes to consult the hosts about. He prefers to put episodes of this radio show on his iPod and listen to them on his way to school. But the other day as he was doing so, the hosts were being so funny with whatever they were talking about that the listener nearly burst out laughing as he was sitting on the train. He managed to somehow refrain from doing so, but as this seems like it could be a reoccurring scenario he wishes to ask: how should he go about dealing with this issue?
"Well, this one really can't be helped," Kame says. "It's not like we're funny because we're trying to be funny!" Kame has an idea, however. "You could think about it like this. Maybe it's actually that holding back the laughs when listening to our show is something that is necessary for you to get through all kinds of hardship later in life." Gaki-san is not sure if the listener's question was quite as serious as Kame's response might indicate.
On a lighter note, Gaki-san thinks it's interesting how, even though most people probably listen to this show at home or in the car, this person goes through the trouble of putting it on their iPod. Gaki-san does recall having seen people on the train laughing as they're watching TV or something on their phones using their earphones, but she points out that it's not like doing so really gives anyone a weird impression at all — more than anything, people just think "I wonder what that person is looking at that's so funny?" If something like that were to happen to the listener, the hosts wish they'd tell the person asking: "Oh, I'm just listening to this show by Morning Musume's Gaki-Kame! Their show airs every Monday!"
Fan mail #2: This listener wishes to know which yakiniku menu items our hosts like the best.
Kame likes fatty pork and beef tongue; Gaki-san prefers less fatty parts such as beef tripe and loin.
Song: Morning Musume – Aki Urara
Song: Abe Natsumi – Ameagari no Niji no You ni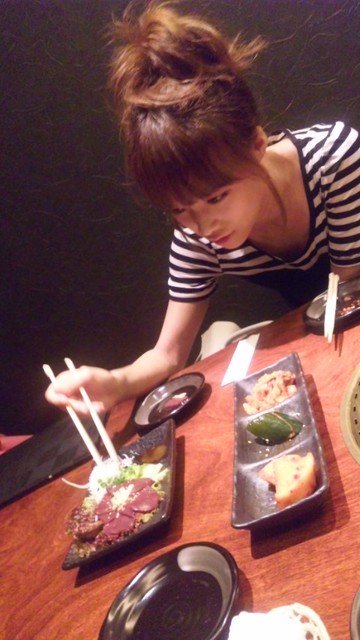 FIVE PLEASURES
Gaki-Kame Showdown!
Before the hosts begin, they decide that today's loser has to pretend to be drunk during the ending. Gaki-san groans and hopes for Kame to lose. Surprisingly, Kame is equally as eager to lose as well. "All I have to do is try to picture how my dad behaves!," she exclaims.
The first game of the episode has our hosts placing a pen between their nose and their upper lip and have a conversation. The first one to drop their pen loses. After about three seconds, Gaki-san loses.
Next, the hosts face off in a game of who can blindly open up a book closest to its 100th page. The book they will be using is 375 pages in length. Kame goes first and ends up at… 70 pages. Gaki-san goes next and gets to… 83 pages. Kame wins.
For the third game, our hosts play a game of "issei no." Soon enough, Gaki-san is found to have won and thus the winner of this week's overall showdown is Gaki-san!
Kame's song recommendation: YUI – Tomorrow's way
Kame (while pretending to be drunk): (hiccup) We're waiting for your messages! (hiccup) Go ahead and ask us anything, such as (hiccup) "which kung fu technique is Kamei Eri hooked on as of late?" Anything (hiccup) goes!