Juice=Juice's Miyazaki Yuka is this episode's navigator. Juice=Juice recently wrapped up their tour at Kanazawa, in Yuka's hometown of Ishikawa prefecture. As Juice=Juice's first hall concert in Kanazawa, Yuka was nervous at first. But as it also was their final concert for that tour, it was a really wonderful show, everyone was enthusiastic, and even the fans had wonderful smiles on their face.
All the members also got to eat at Hachi-ban ramen, a major ramen chain in Ishikawa. The noodles are thick, so it might not seem like ramen at first glance to outsiders. However, it received the approval of ramen-loving Kanazawa Tomoko-chan. Yuka hopes that they'll all be able to go to Hachi-ban ramen again.
Whenever Juice=Juice hold performances in Kanazawa, Yuka's family will never fail to buy them gifts. At first Yuka told her family that it wasn't necessary, but she then realised that her family enjoyed giving gifts – and Ishikawa has plenty of things that make good gifts.
♫ Juice=Juice – Umaretate no Baby Love ♫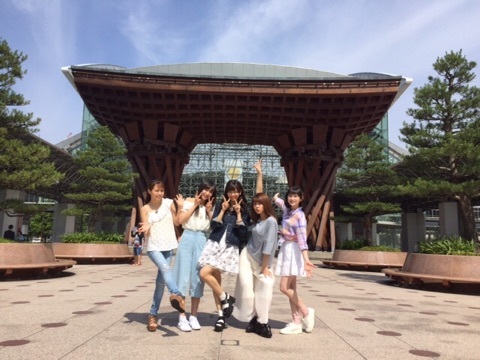 June marks the beginning of the rainy season in Kanto. Yuka elaborates on types of rainfall – 'Otokozuyu', where it rains heavy but ends quickly, and 'Onnazuyu', where the rain is light but prolonged. When Yuka thinks about the rainy season, she's normally got onnazuyu in mind, rain that goes on the whole day. Heavy but short bursts of rain bring to mind the squalls that happen in Okinawa.
The rainy season also means that it'll often be cloudy, which may lead to a heavy mood. But listening to the sound of the rainfall relaxes Yuka. In fact, when you look up 'relaxing sounds', a bevy of rainfall recordings turn up. She recommends looking them up if you're interested.
And speaking of the rain, the person who pops to mind is none other than Yajima-san. Yajima-san had recently talked about no longer being an ame-onna – a woman whose presence brings along the rain – but Yuka doesn't feel that's the case. There's such a strong association between Yajima-san and the rain that the official Hello! Shop even released a Yajima umbrella. Yuka finds it very much like Yajima-san to be willing to take the Mickey out of herself, humbling herself to illustrate and promote the umbrella.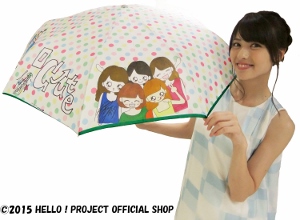 Time for letters. Kanazawa Tomoko-chan used the buzzword 'paripi' at the evening Shiga performance which the letter-writer attended. The audience even called out 'Paripi! Paripi!' at the encore. They'd like to know how the Juice=Juice members use 'paripi' in their interactions with one another.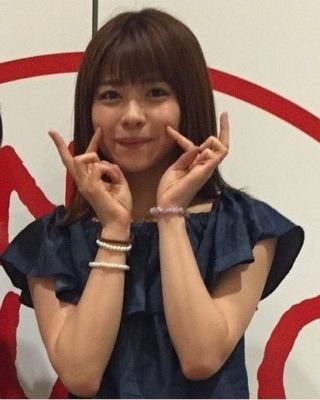 'Paripi' suddenly came into vogue with the members of Juice=Juice, and they say it in conjunction with some sort of hand sign – which, based on Yuka's description, is what I think Tomo is doing in the photo on the right.
While Tomo looks serious, at her core, she's pretty silly – like a primary school boy. There doesn't seem to be any particular rhyme or reason to when she'll use 'paripi', like 'Ah, the bento's here! Paripi!' or 'It's now been twenty minutes. Paripi!' Yuka doesn't get how Tomo uses it, but she thinks that it's a magical word that pumps up the spirits of Juice=Juice.
Even in the middle of concerts, the members would mouth off a 'paripi' if their eyes met, which would bring a smile to the recipient's face. So they can't do it at serious songs. But with energetic songs like 'Samidare Bijo ga Samidareru' or 'Girls Be Ambitious', 'paripi' gets them even more excited.
But it might get weird if they overuse it, so Yuka think that it'll be better if it only pops up occasionally. And on the topic of buzzwords, what's trending with Juice=Juice even more at the moment is 'Amigo', Sayuki and Tomoko's take on the 'Amore' buzzword.
On to the next message. After their Ishikawa concert, Juice=Juice stayed at Ishikawa to film for a DVD magazine. After that, they apparently went to an open-air bath. This brings up memories of a previous hotel stay where Aarii virtually threw Yukanya into a tub with her. Are there any behind-the-scenes stories Yuka could share? 'Please continue growing up towards your Budokan performance, amigo~!'
See, even this listener has started using 'amigo'. Yuka's pretty glad about that. First she'll start with her hometown hall concert. She was really grateful for the Yukanya call. She could hear it even through her ear monitor, which made her really happy. She felt the outpouring of love from the assembly of pink.
Ever since Juice=Juice started with their first live tour, Yuka had always wanted to do a concert at her hometown. And since Juice=Juice generally have something going on, hitting the end of this tour felt monumental to the members – this concert at Yuka's hometown would be their last. She felt the love. Among their hall concert tours, this was their longest, they went to a lot of places, including member hometowns. They also had to work a lot with the stage direction, like how they had the balls of light in Tsudzuiteiku STORY. It was a really memorable hall concert.
In the next day they had the shooting for their DVD magazine. Yuka had really been looking forward to this shooting. As it would be held at Ishikawa, she'd been involved with the planning, deciding things like where they'd go, what to eat, and so on.
A surprising amount of people had sent in messages asking Yuka to talk about what happened when they went to the open-air bath after their DVD recording. After the shooting, the girls stayed over at a Japanese-style inn, where they had reserved an open-air bath.
While she admitted that it would be nice for all of them to bathe together, Yuka was a bit embarrassed to go in the bath – though she notes that she'd be fine if she were in the midst of strangers. And so, she declared that she would just sit by the sidelines and watch over the rest. Takagi Sayuki-chan was indignant, 'Why aren't you coming in!? You know, if we all get in, we can tell everyone how close we've become!' Yuka wonders why they'd need to tell people how close they are – Juice=Juice are already close, regardless.
Karin-chan decided to join Yuka in sitting it out, so it was just the two of them standing by the sidelines at first. Aarii and Sayuki were clamouring for them to come in, splashing warm bath water at them. Aarii and Sayuki eventually managed to persuade Karin to change her mind and join in, leaving Yuka by herself. In the end, Yuka decided to throw in the towel, and joined in.
Anyway, even if she'd never imagined that she would be in a bath together with all the members, she had a good time when she did join in the fun. There was a bit of an uproar as Karin-chan didn't want to get her hair wet. Takagi Sayuki-chan was doing poses in futility, since no one was watching. And then you had Aarii jumping at Yuka, scaring her. Since Aarii doesn't hold back, Yuka was even considering leaving the bath early.
All in all, Yuka enjoyed it. Though she feels tired just having thought back on it.
♫ Juice=Juice – Ai Ai Gasa ♫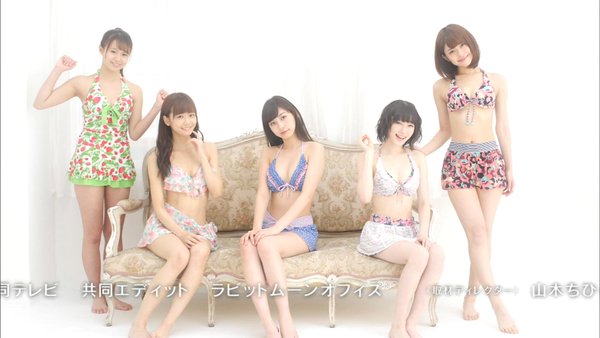 Some research has been done about 'love at second sight', where people rate a face as more attractive if the previous face they saw was also attractive.
Yuka had given it some thought the first time she heard about it. She's not sure if she's got the right idea, but consider Country Girls: the cute group. In isolation, Country Girls member Yamaki Risa seems more sexy than cute. But in Country Girls,  Risa-chan comes off as being a cute-type rather than a beauty-type, perhaps due to the group's cute image and the presence of Country Girls' tiny members.
Closer to home, Juice=Juice's Karin-chan seems cool and mature when she's in Juice=Juice. But she showed Yuka a picture of a photoshoot she had been in with Makino Maria, Morito Chisaki, and Hamaura Ayano. Amidst those girls, Karin-chan looked much more childish as well.
As they say, one's atmosphere is shaped by those around them. It goes with what she's observed, though she's not sure if it ties in with the research report she'd been talking about.
♫ ℃-ute – Iron Heart ♫