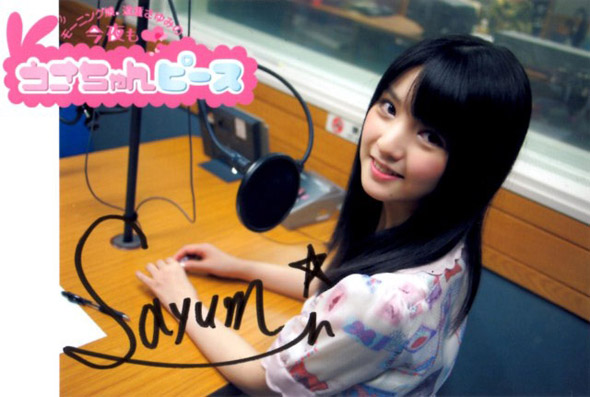 Sayu flubs her greeting to the listeners as she tries (and fails) to hold back her laughter, presumably because of something stupid her guest was doing. Sayu's guest introduces herself as the recently-turned-15 Sato Masaki — Sayu asks her if she's absolutely sure about that as previous to the show starting, she had replied she was actually 16 years old when prompted her age by the staff.
Sayu: So after thinking about it some more, you can now with confidence say you're 15, right?
Maa-chan: Yes. I can now say I'm exactly 15 years old. After looking it up.
Sayu: …You looked it up?!
Maa-chan: I did! I really couldn't remember.
Sayu: Wait, so you used the internet to look up your own age?
Maa-chan: Yes!
Sayu: You seriously forgot how long you've been alive?
Maa-chan: No, I didn't.
Sayu: …You just told me you did.
Maa-chan: (laughs happily)
Sayu then blames Maa-chan for talking too much from the get-go, for talking on top of her, and for making her botch up her opening. Maa-chan responds to these accusations with laughter.
They talk about how she's the last member from the current group to come as a guest on Sayu's radio. Sayu says she's really worried about tonight's show and that she's never had a guest on that's made her this anxious. Maa-chan giggles and doesn't understand why Sayu would be worried.
Sayu goes "Oh well, I'm sure it'll be fun anyways. Let's enjoy ourselves, yeah?!" and offers Maa-chan a high-five… which goes ignored. Sayu calls Maa-chan awful.
Sayu: Konya mo…
Sayu & Maa-chan: Usa-chan peace!
Song: Morning Musume – Fantasy ga Hajimaru
Sayu no Oobeya
Letters from listeners

Fan letter #1: The listener talks about Maa-chan nearly spoiling a surprise planned for Sayu's birthday bus tour by saying something along the lines of "please look forward to tomorrow, Michishige-san… ♪ (wink, wink)" at an event, and even involving Iikubo-san in it by following that up with "amirite, Harunan?!" Maa-chan says that she's actually had several fans ask her about why she spoiled the surprise about the huge banner that had been planned for the event: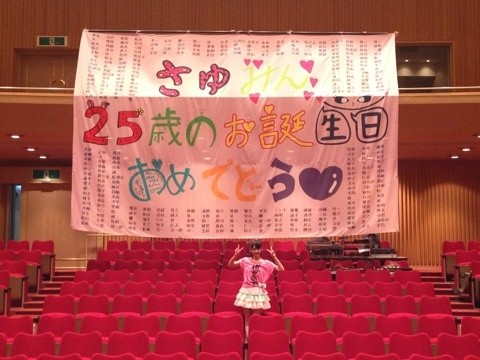 However, Maa-chan says that when she said the above, she didn't mean the banner; she meant the messages she had personally written on the "Sayu Usa shed" (pictured to the left here):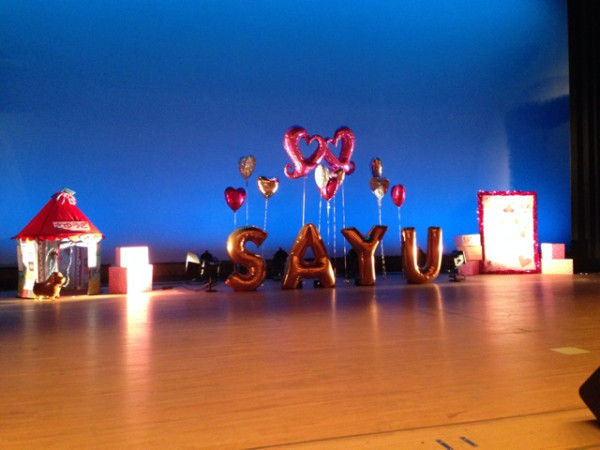 Maa-chan explains that she just randomly came across the present box, signboards and other things they were preparing for Sayu's event, and she then took it upon herself to scribble things on them without anyone's permission. When she told a staff member that she'd done so, they just thanked her. Sayu says Maa-chan should consider herself lucky they simply let it slide and didn't get angry at her. The staff told her that it was fine because it wasn't very easy to see. So Maa-chan's "look forward to tomorrow~" was meant as a hint to Sayu about the scribblings on the shed. Sayu, of course, had no idea that's what Maa-chan had meant.
Maa-chan's scribblings included messages like "us 9th, 10th and 11th gen members are always behind you, Michishige-san", "Sayumin!", "Michishige-san da yo~" and "Oyasayumin♪." Sayu actually thanks Maa-chan for taking the time to write such lovely things to her, but Maa-chan immediately ruins it:
Maa-chan: Yeah. I was super bored, so…
Sayu: You were BORED?!?
Maa-chan: (laughs)
Sayu: And here I was, thinking you did it just out of the kindness of your heart…
Maa-chan: (laughs harder)
Fan letter #2: The listener asks if Maa-chan has read Sayu's new personal book and what she thinks about it. Maa-chan had just gotten a look at it before the recording of the show.
Maa-chan: Your makeup-less face looks really baby-like in it.
Sayu: Baby-like? So, you mean, cute?
Maa-chan: No.
Sayu: …Huh?
Maa-chan: Baby-like.
Sayu: So, it's cute like a baby's?
Maa-chan: Yes.
Sayu: …
Maa-chan: (giggles)
Maa-chan says fans will probably really appreciate the book since it's like you're actually with Sayu. There are pictures of Sayu's room, her clothes, her shoes, etc, so it apparently feels like you're really in Sayu's house.
Maa-chan: I think if Sayu's fans don't buy this…
Sayu: It's their loss?
Maa-chan: No.
Sayu: It's not their loss?!
Maa-chan: (laughs) Their lives are probably at a loss of 25%.
Sayu: Wait, so it IS their loss?!?
Maa-chan: (laughs)
Sayu: But 25% of your entire life… that's quite a lot. So in essence, what Maa-chan is saying that you should definitely buy it.
Maa-chan: Right. Your life… three… three fourths… three fourths of… um…
Sayu: I have no idea what you're saying, so let's move on.
Fan letter #3: The listener asks what candy Maa-chan is hooked on lately. Sayu talks about how while the staff will always have some candies prepared for the radio personalities appearing, this is the first time she's ever seen someone munching on them as eagerly as Maa-chan — usually guests will hold back from eating them too much. Sayu says that when she's just doing a show by herself she'll sometimes have some and sometimes she won't, but when there's a guest appearing– *rrrrip!*
Sayu's monologue is abruptly cut short by a ripping sound and Maa-chan laughing. Sayu announces that Maa-chan has just torn her script. She tells Maa-chan to concentrate. It takes a while for Sayu to gather her thoughts and remember what she was even talking about.
When there's a guest appearing, Sayu makes it a point of at least eating one so that the guest will feel that it's okay for them to have some, too. But when Maa-chan saw the candies, she just immediately ran over to them and started devouring them, going "(munch munch munch) these are kind of damp!"
As to what candy Maa-chan is hooked on lately, she answers otokoume (salty dried plum flavor) gummi candies that she recently received from LoVendoЯ's Uozumi.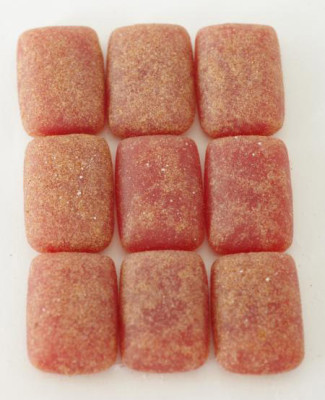 Fan letter #4: The listener asks how much water Maa-chan drinks per day. This is the same question as Maa-chan had asked Sayu on a VTR showed on her birthday bus tour. Sayu says she drinks about 750ml a day, perhaps 900ml now that it's summer. Maa-chan says she doesn't even drink 500ml a day because she's really bad at taking in carbohydrates. Sayu reminds her that water isn't a carbohydrate.
Fan letter #5: The listener asks Maa-chan to show off her specialty and do an impression of Sayu singing. Maa-chan says that she's indeed constantly doing an impressions of Sayu in front of the other 10th gen members — even when Sayu isn't there. Sayu isn't pleased to hear this. Nevertheless, she asks Maa-chan to pretend like she's in front of the 10th gen members now and do an impression of her.
Maa-chan explains that Sayu is really difficult to do an impression of as she says Sayu's singing is so rhythmical. Sayu, in turn, says Maa-chan has a really unique way of keeping the beat. Sayu tends to just listen to the vocals, but Maa-chan says she listens more to rhythm and the sounds of the backing track that Sayu hardly even notices. Speaking about learning their dance choreographies, Maa-chan says she doesn't understand why their dance instructor always does the "one and two and three and four thing," so Sayu asks how exactly she then learns the steps if not through that. She asks if it just comes to her naturally. To explain, Maa-chan uses as an example the "bijinzoroi no Japanese" part of "HOW DO YOU LIKE JAPAN?" During that segment of the song, she listens to the sound of the guitar to stay in rhythm:
However, she notes that every now and then she's still told that she's singing off-beat, so her technique isn't quite flawless. Sayu says she still thinks Maa-chan is amazing for keeping the beat in a way different from the others.
Fan letter #6: Previously when asked to compare each member of the group to an animal, Sayu compared Maa-chan to a lesser panda. (Why? Because lesser pandas are popular and Maa-chan seems really popular to Sayu lately.) The listener asks Maa-chan in turn to compare Sayu to an animal. Maa-chan, without a second's hesitation, yells out "pig!" which Sayu protests immediately. Maa-chan then offers "wild boar!" which Sayu, again, vehemently opposes and asks for something cuter. Maa-chan says "ant," which Sayu says isn't even an animal. Sayu recommends that Maa-chan take into consideration cute animals like bunny or hamster or, since she's the leader, maybe a lion. Maa-chan immediately says lion is out of the question.
Thinking about it (relatively) seriously, Maa-chan offers that Sayu is like a mix of snake, lizard and hamster. She says that the way her mouth and nose are tiny and her eyes so big reminds her of a bunny, but her jawline reminds her of a snake or lizard. Hearing her explanation, Sayu says she sort of gets it. She accepts this answer.
Song: Morning Musume – Dou ni mo Tomaranai
Tottemo Moechau Mousou Sexy Word
Sayu recites innocent words in a sexy way
Since there's a guest this time, Sayu asks Maa-chan to say the word which is "onigokko" ("game of tag"). Maa-chan says it and Sayu complains that Maa-chan's version of it is completely void of sexy.
Sayu asks if Maa-chan will come again next week. Maa-chan happily agrees to.
Sayu & Maa-chan: Oyasayumin!
Henkka: And on that note, I welcome you to Hello! Pro Radio.
This is the first radio summary I've ever done so I'm still working out the best way to format these and stuff. If you have any suggestions or advice as to how I can make these better or more readable for you guys, do leave a comment. Or, alternatively, why not just join me?