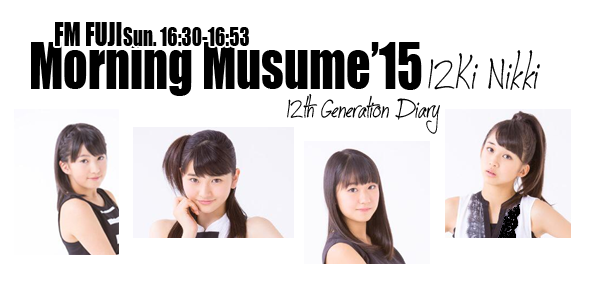 Before the show starts, Ogata warms us up by asking Nonaka for today's English. Miki replies with:
Nonaka: I can eat katsudon forever.
Ogata: What does that mean?
Nonaka: I can eat katsudon forever~!
Akane: WHAT!?!
Ogata: You'll get fat, you'll get fat.
Today is the second broadcast of the show and everyone is super pumped about it. Ogata mentions that she has been waiting all week to do this again. Everyone also agrees that it's great that they get to do this every week. Today, Nonaka Miki is in charge. She asks everyone how they're feeling now that they've done this once already.
Maria mentions that she doesn't feel like she talked much last time. Hearing that, Nonaka and Ogata put in that they talked a ton. They all agree that Maria should speak up a bit more this time.
Song: Morning Musume – One Two Three
This week the staff have helped out by given them questions to answer on the show.
Question #1
Tell us some stories about your Senpai.