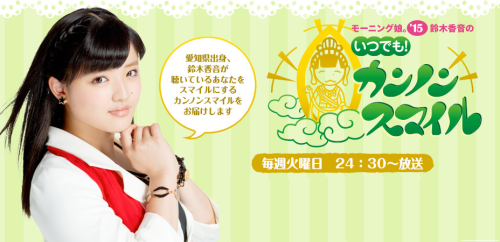 Recently, Kanon went to Disney Sea with her family. Last year her sister got the flu during the trip, but this year all four of her family members were able to make it. Kanon explains this is a miracle, as both of her parents took a break from work, her sister was on spring break and Kanon was able to get some time off. They had quite the packed schedule; her family got up at 5 am to travel to the park. This resulted in her parents and herself being rather tired, but her sister was still excited for the experience. Her sister had created an elaborate schedule for the family, buying fastpasses for certain rides early so they would for sure be able to go on all the rides and attractions they wanted. It was tiring, but Kanon is happy she was able to do it with her family.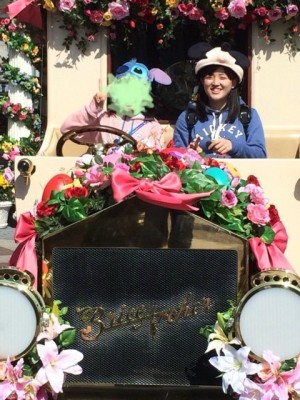 Enjoying the happiest place on earth
Song: Morning Musume '15 – Ima Koko Kara
I, Suzuki Kanon Will Open Up To My True Feelings Message Corner!
Letter 1: This listner has a quiz for Kanon. Hint 1: You can get it from a 100 yen shop. Hint 2: It comes in many different colors. Hint 3: At concerts you yell loudly with it. With those hints, what does Kanon think it is?
They gave away too much, Kanon states before revealing the answer: a pen light. She assures the listeners that she can handle much harder quizzes and suggests that they give her more of a challenge next time.
Letter 2: Nonaka Miki recently went on a tv program solo for a piano competition thing. The listener thinks this makes  her Kanon's piano rival. The listener expresses that they would love to hear a piano showdown on the show some day.
Protesting, Kanon says piano is not her specialty. Before Miki joined Morning Musume she clearly practiced piano properly and thoroughly to have the level of ability she does with piano, and actually, Kanon hates playing the piano. She was pushed to play in elementary school and it wasn't something she really liked, so, being forced to play brought Kanon to hate it. Since Miki is clearly very good at the piano, it really wouldn't be much of a competition. Also, Masaki is very good at playing the piano as well, so Kanon thinks there is no need to improve her piano skills when there are two members already skilled in it.
Letter 3: Since Morning Musume is covering a Pretty Cure song, the listener asks what kind of image Kanon would have if she were to be a pretty cure herself and what her finishing move would be.
To start, Kanon would want to have a green outfit, with a big ribbon that would come out during her transformation. Kind of like the ribbons the 12th generation have on their costumes. Adding to it, Kanon thinks that her costume would look like a combination of Sailor Moon, Pretty Cure, and Ojamajo Doremi outfits together. Kanon isn't really sure what to decide for a finishing move at first, since most pretty cure moves are something sort of silly or cute sounding. Something like a cute version of a lowkick would be good, like "Cure Cure Lovely Lowkick!"; although Kanon laughs that it isn't cute at all.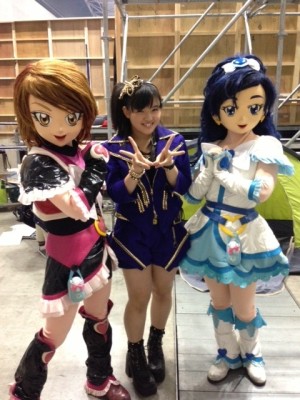 Kanon with some kinda creepy Pretty Cures
Ambitions to Become The Mayor of All Cities!
The corner where it is Kanon's goal to receive letters from all around Japan. With each different city she receives a letter from she colors it in green.
Kanon receives postcards recommending food from Yokkaichi, Iga, and Suzuka Mie and Ichinomiya, Aichi. She is fascinated by their suggestions of a special roasted pork dish with a special sauce from Yokkaichi, sushi from Iga, a special type of ramen from Suzuka, and fried cheese curry from Ichinomiya.
The postcard sender from Kasamatsu, Gifu recommends Kanon visit the horse racetrack in Kasamatsu.
From Kumamoto, Mie, the sender asks Kanon what place she is particularly thankful for visiting when on tour. During the GIVE ME MORE LOVE tour, she got to hold a concert in Yamagata, a place normal not in their location lineup. Kanon loved the imoni they had; but besides that, she thought Yamagata was a very beautiful place and is happy she received the opportunity to visit.
To keep up with the requests from her family, this last song is a request from Kanon's mother.
Song: Morning Musume – 3, 2, 1 BREAKIN' OUT!
Sexy Word: Mille Feuille~