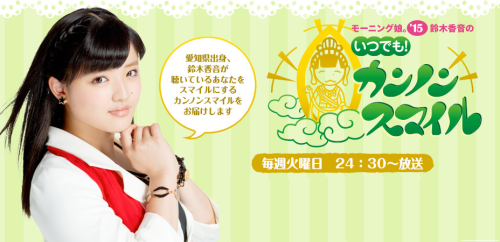 January is already over, Kanon comtemplates. Its been four years now since Kanon joined Morning Musume. At that time, Kanon was in 6th grade and graduated elementary school the following month. She was undergoing intensive lessons at that time and missed out on going to the graduation ceremony. She goes on a tangent explaining how her classroom worked; good marks or performance would get you "plus points" and you could accumulate many over time and get some sort of reward from them. As it was the end of elementary school, her friends decided to give her some of their points because Kanon wasn't getting very many (from joining Morning Musume and being busy). She felt very loved by her friends and really appreciated their support while she had to travel from her hometown to Tokyo so often, trying to learn as much as she could in school and work.
This first song is actually a request from her father, Kanon laughs.
Song: Morning Musume – Shouganai Yumeoibito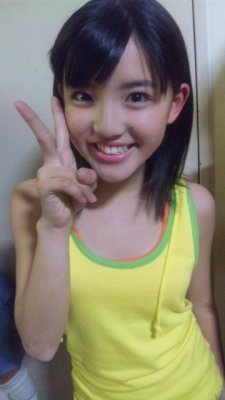 Four-years ago Kanon! Such a cutie!
Tokai Sanken Shichou Sonsen Haiyamaru Yabou!
Ambitions to become that mayor of all cities!
The corner where it is Kanon's goal to receive letters from all around Japan. With each different city she receives a letter from she colors it in green.
Letter 1: From Okazaki, Aichi. They explain Okazaki is famous for its Hatcho Miso, which is only grown in Okazaki. There are some shops in Okazaki that sell the miso on soft-serve ice cream. The writer wonders if Kanon has ever had this famous type of miso and recommend that everyone who visits Aichi must try it.
Kanon has tried the special miso before in elementary school, but not with the ice cream. She says she would like to try it for sure.
Letter 2: From Toyokawa, Aichi. The writer first explains where Toyokawa is, which is next to Gamagori and underneath Okazaki. Toyokawa is apparently known for their Buddhist temple, and the writer wonders what Kanon's hometown is famous for.
Kanon has gone to the Buddhist temple the writer mentioned with her Grandpa and her little sister and has also had their inari sushi (the temple is called "Inari Temple"). As far as a hometown specialty, Kanon thinks that there is good food all over Aichi. As she's thinking about it she first answers that maybe Okazaki's Hatcho Miso is the best, then changes her mind to Gamagori's tangerines. Her grandfather gave them to her when she was little and now she will try to go get tangerines with the other members. Kanon explains that they are very sweet and that she has fond memories of eating them in elementary school. She definitely recommends them.
Letter 3: From Togo, Aichi District, Aichi. Togo is a rural town, so there is lots of green everywhere and the sky is beautiful.  The writer wonders what type of flowers Kanon likes. The add a "PS" to the letter and say they would love it if they were the first to send a letter from Togo.
Kanon congratulates them on being the first person to send something in from Togo. She recalls that Togo's town flower is an iris, but as far as Kanon goes, she likes sunflowers. They have a good character to them. Although she can't remember its specific name, there certain kind of sunflower she likes because each petal looks individually beautiful.
Letter 4: From Seto, Aichi. In Seto, there is good "B gourmet" restaurant that has good yakisoba, and they recommend Kanon to try it.
Kanon explains that she has been to a "B Gourmet" place before in Aichi and enjoyed the food there. However, she hasn't been to that particular place and would like to try their yakisoba, especially because, Kanon notes, she is pretty bad at making yakisoba herself.
Letter 5: From Takahama, Aichi.  They would like to know what kind of costumes Kanon would like to try wearing.  They write that they would like to wear to wear a Rilakkuma costume.
Kanon explains that she wore a horse costume at her birthday event last year at her managers suggestion, as it was the year of the horse. So to follow the tradition, she says she would like to wear a sheep costume (as its the year of the sheep). Kanon is pretty sure that a sheep costume would be pretty adorable to wear overall.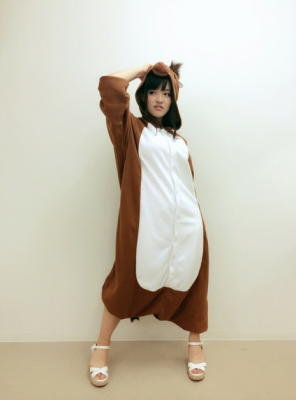 Looking good in the horse kigurumi
Letter 6: From Takayama, Gifu. They write that there are lots of delicious things to eat in Takayama, especially Kanon's beloved yakitori. There is something special about the chicken, like they raise them in Takayama..? Kanon can't quite read the letter… The staff come over and figure out that the special yakitori is from "Kei-chan's Yakitori Shop". They write that the food isn't healthy, but it is tasty.
She realllyyy wants to try the special yakitori, after all, it is Kanon's favorite.
Kanon actually read 10 letters the listeners sent in, however some of them pretty much just said "I'm writing to you so you can fill up your map,". The four letters she didn't really have a response to were from Nagoya and Takahama in Aichi, Ise in Mie, and Kawasaki in Kanagawa.
There 10 letters today, so 10 more places Kanon got to color in green. She is very happy with this result and how much of it is green already.
Song: Morning Musume – Furusato
Kanon no Nandemo Best of 3!
Kanon's Anything Best of 3!
he segment where Kanon ranks different things the listeners write in to her about. This time, the listener writes that they would like her to give her top 3 catering foods that get her pumped up. Kanon thinks this will be a hard one for her to rank.
3. Fried Butter Mushrooms. She actually applaudes her first choice. They usually have them at Harmony hall in Kanagawa. She loves how there's a spicy flakes sprinkled on them. She proceeds to gush about how delicious they are with rice alone. Kanon would like to just eat the mushrooms to fill her up, although that wouldn't be the healthiest option.
2. Imoni.  She had this dish in Yamagata during the Give Me More Love tour. It was also the first time she had performed there. Kanon is pretty sure the caterers  brought many dishes that are a specialty in Yamagata. Out of all the caterers brought, Kanon thought it was the best thing they had to offer. She explains that it has meat, potatoes, carrots, and konnyaku noodles.  It had a pretty savory taste that made it like an "umami version" of Imoni. She explains her father has made it before but it had different kind of taste, and was particularly impressed by the Imoni in Yamagata.
1.Doteni. A speciality from Aichi. Kanon loves that it is made with a red bean miso paste, and pretty much everything else about it, too.  She explains it would occasionally be offered when they have concerts in Aichi and wishes the catering company in Aichi would always have doteni.

Song: Morning Musume – Aisaretai no ni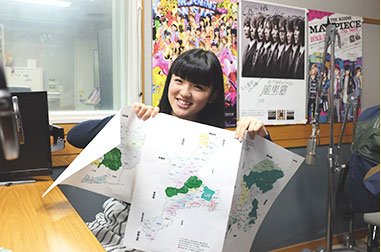 Kanon's filling up the maps quickly!
Otsukanon!