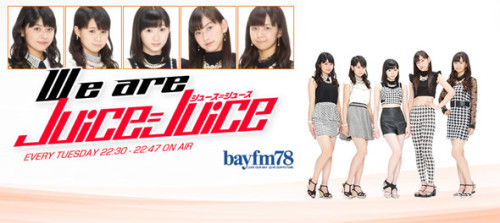 "Sayuki"
If you follow Hello!Project at large you might be able to guess why the opening word this time is Sayuki. November 11, Pocky Day, is former Morning Musume member and Lovendor frontwoman Tanaka Reina's birthday, and Juice=Juice's own Sayubee is a massive, massive fan of hers. Now, why Tomo went with Sayuki instead of Reina for the opening word, I'm not entirely sure, but both Tomo and Uemu wish Reina a happy birthday, regardless.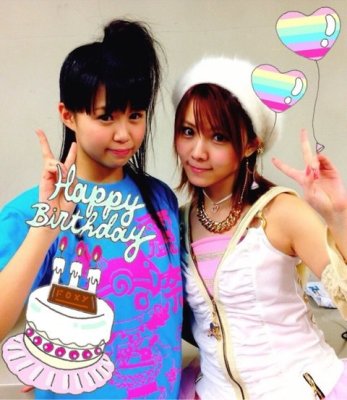 Reina's birthday is basically Sayuki's birthday
Song: Juice=Juice – Date ja nai yo, uchi no jinsei wa
Fan Letter
This letter comes from Hanyuu. They remark on how they've been going to a number of different Juice=Juice shows around the country, and they end up being so pumped up when they get home that they can't sleep. Tomo interrupts here with, "Really?" Anyway, they love the recent changes to the setlist and they want to know if they have had any particular juice that they enjoyed from around the country, since they do a toast at every venue with a local juice or drink from the area. Hanyuu liked the coffee drinks in Fukushima and Chiba. The two girls giggle at Hanyuu's love of coffee and wonder if that might not be the reason why they can't sleep, instead. Tomo thinks about her favorite drink, but says that Yuka's favorite was certainly the yuzu cider she had in Ishikawa.
Tomo: I don't know if I have one. Do you have anything, Uemu?
Uemu: Mikkuchu juuchu!
Tomo: … mikkuchu juuchu?
Uemu: Yeah yeah yeah yeah yeah.
Tomo: That's not what's called.
Oh but it is. It's an Osaka-area drink, kind of a banana-yogurty drink. After some thought Tomo says she really liked the drink she had in Fukushima, as well.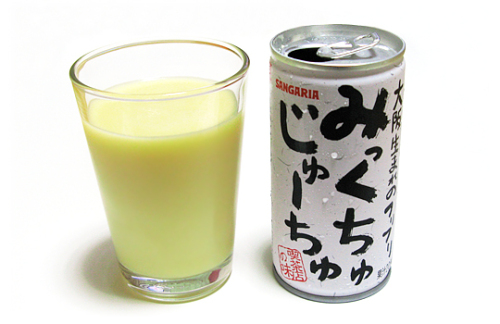 Not just a speech impediment, an actual drink
This leads them to talking about their tour, which will soon be coming to an end. Tomo enjoyed being able to sing songs from other H!P artists because they always get big reactions out of the crowd as well as performing new songs from J=J, but she appreciates all the support everyone has given the 5 of them. Uemu says that drinking juice everywhere and eating different regional treats now feels kind of nostalgic as it comes to an end. It feels like it has gone by very quickly, despite being a rather long tour.
Song: Juice=Juice – Senobi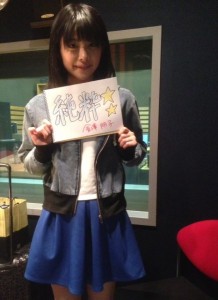 Voice Blog
Pure by Kanazawa Tomoko
Soon Juice=Juice will have the opening night of their new musical, Koi Suru Hello Kitty. Everyone has been very diligently rehearsing for it, and Tomo, having a male role, has taken the image of a soccer boy to heart, so much so that she's been adopting some habits from rehearsals into her everyday routine. She carries a soccer ball with her when she goes home, and in the evenings she'll practice dribbling it and kicking it around. She's starting to develop a serious passion for soccer, little by little. She has also been talking a lot to their acting coach, Nishimori-san, to make sure that she can express all of her complex emotions in her character through her expressions. She's really nervous since the play starts in a week, but she really wants to make it a success.
As the show comes to an end, Uemu and Tomo comment on how they rarely work together. Even when they're just sitting around going through mail, it's hardly ever just the two of them. In response to the topic of the play, however, Tomo says that during rehearsals Uemu will often steal the soccer ball that Tomo uses to practice with and try practicing it on her own. They're all slowly acquiring soccer fever this way.
"My nose hurts"
Uemu ends the show talking about her nose because Jack Frost is nipping at it, apparently. It's gotten rather cold in Japan for the past few days and every time Uemu wakes up and goes outside, she feels it most in her nose. This was her attempt at putting that cold feeling into different words.