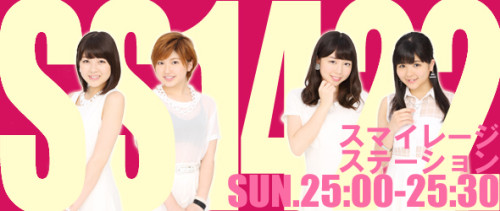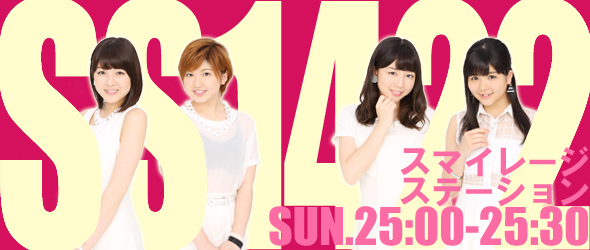 Cultured Leader Wada-san
The discussion starts off today with the question, "What is culture?" Kananan responds quickly with, "Japanese food, Japanese clothes, Japanese art… which means Wada-san!" Takechan is incredibly impressed and asks her if she looked this up beforehand. She did, of course, but all of this was just an elaborate segue to talk about everyone's favorite leader, Dawa. Meimi says that she has made plans with Dawa to share their respective hobbies. They went to see Wicked together (since there are few things Meimi loves more than Wicked) and they've been talking about visiting different temples together. Takechan, on the other hand, reports that she made a bet for the winner of a Central Baseball League game and her team lost, although she wants everyone to know it was a very, very close game. As a punishment, she has to make a written report of her thoughts on Dawa's book, A Maiden's Guide to Paintings. She has not started yet. Rinapuu says that Dawa recently bought her and Takechan some Harry Potter merchandise since their both such big fans. Meimi begins to pout, "She didn't get me anything…"  Kananan points out that earlier when Dawa was out with Meimi, though, they met up with Kananan and took purikura without Rinapuu or Takechan, so it evens out.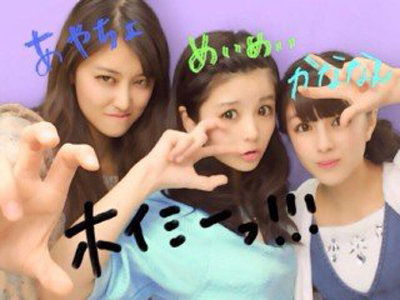 No Takechan or Rinapuu in sight
Personal Updates
Moving on, Takechan asks if anyone has done anything interesting lately. Meimi immediately chimes in with, "Religious study!" Yes, this is true: Meimi went on her own personal time out to a temple to do a day of training with the monks. Rinapuu thinks this is weird, but Kananan might like to go and try it once. Meimi says it was really intense, as she ran so much she thought her legs would give out and they hiked so far she couldn't breathe and then she did some waterfall mediation. She was about to give up halfway through but then she realized she might never get the opportunity to do waterfall meditation ever again so she gave it a go. She thinks that if she had stuck with it she really might have considered becoming a monk.
While her generation-mates sway her away from the path of a monk, Meimi informs us that she did take away something very important from the experience and that is gratitude. She ate a meal with the monks and said that they spend a long time doing prayers before eating and always make sure to express their thanks for receiving anything. She emphasizes how difficult the waterfall meditation was, though, as it was very chilly and she can't imagine doing it in February like the monks do. She also notes how very few women ever do the hike up to the waterfall so she feels special for being able to do it. Takechan doesn't think that first year high school students ever do anything like that, either, and mentions how strange Meimi is.
Kananan's personal update is much briefer, and she merely takes her time to pay her compliments to the staff members who help her out every day. Rinapuu's update is about her grandmother, who recently took her out to eat. After they were done eating, they went to a nearby game center to take purikura. Rinapuu thought this would be fun since it had been a while since she had taken a picture with her grandmother and her grandmother had never actually taken a purikura before. At first she had to do a lot of convincing because her grandmother didn't want to have any of the body modification filters on, and then once they got inside the booth her grandmother yelled at the machine because she couldn't find the camera and the audio instructions were going too fast. She put her glasses on to try and find the camera but by then the camera had already started going so they ended up with some very funny pictures.
As Rinapuu passes around the pictures of her grandmother that they took together, Takechan says that she recently went to Disney Sea with her cousin, Yajima Maimi. They went in the afternoon and were surprisingly able to ride a lot of things considering the time, but Takechan took Maimi on the Toy Story Mania ride for the first time. The ride is set up like a game, where you ride along in your car with a partner and occasionally stop to play some virtual games like ring toss or pop the balloons and so on and so forth. As the cousins are both rather competitive people, they both wanted to win, but Takechan won because she had played before. After going around the park a bit more, Maimi asked her if she wanted to ride Toy Story again. Maimi seemed much more determined to win this time, and Takechan says the noise coming from their controllers was much more intense the second time around, but ultimately Takechan achieved victory once again.
Meimi: Oh, yeah, I think I saw you mention that on Twitter.
Takechan: I'm telling it to you right now, you don't need to look on Twitter.
As someone gets the hiccups in the background, Takechan says that she tried to dress casually but covered up, since they were going out on their private time. She ended up wearing baggy jeans, sneakers, a hoodie, and big Mickey sunglasses. She thought she was disguised pretty well, but when she showed the pictures of the day to her mother, she burst out laughing at how silly she looked. Kananan demands to see the pictures and Meimi immediately goes on Twitter to find them.
Song: S/mileage – Ee ka!?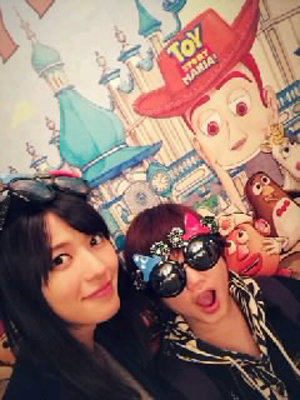 Who's that weird-looking kid on the right?
Fan Letters
This letter comes from Asumi. They saw the play on opening night and want to know if there are any interesting things in the set that they should look out for the in the upcoming DVD of the show. While three of the members struggle to respond, Meimi, resident theater expert, points out that on stage left when Dawa's character enters you can see an "A" for Ayaka on her bag, and that on stage right you can see a stuffed Kirin and a Kirin bag. She also says that all of the cushions you see them sitting on and such were given away to the cast members at the end of the show, but most of them only took one even though they were offered more. Once they said no, they gave them to the Kenshuusei members who were in the play, and she said that they were just so happy to receive them, it was adorable. Meimi says that the Kenshuusei also came up to her and asked her to do a bit of Smile Fantasy in Gekidan Tamura, her theater corner where she reads aloud scripts from fans. She thought it was so cute and she although she hasn't had an opportunity to do Tamura Theater in a while, she's amazed at how many of the fans still send in scripts and some even involving Smile Fantasy. They all hope that everyone will watch the DVD and get lots of enjoyment out of it.
Song: S/mileage – Shooting Star
So after two radio recordings with all 4 2nd-gen members, they give the most exhausted closing to the show I have ever heard.
Takechan: Okay, we'll be back next week for another half-hour, this has been SS1422. Good night.
Rinapuu: Yeah, okay…