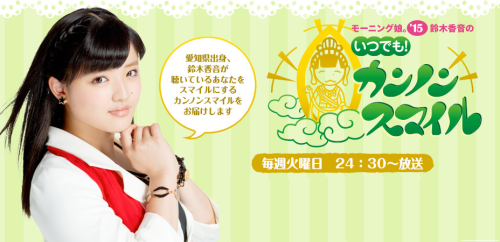 May 7th was Masaki's birthday, Happy Birthday! Masaki joined just 9 months after Kanon; at the time she was only 12 years old. Kanon was 13, so suddenly, she was no longer the youngest after a small period of time, which left her initially with a strange feeling. Masaki quickly became the younger sister member of the group which led to Kanon thinking that Masaki was a pretty cute kid. Recently, on the spring tour, during the filming for it Kanon noticed that Masaki was much more mature and cool. Because Masaki is more known for her character as being energetic and cute, the grown up Masaki surprised her. Kanon praises Masaki, saying she a genius when it comes to understanding songs and the like; it really motivates Kanon to do her best alongside Masaki in Morning Musume.
Song: Morning Musume '15 – Seishun Kozo ga Naiteiru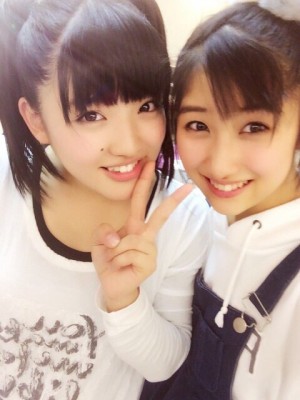 They're both growing up so fast!
I, Suzuki Kanon Will Open Up To My True Feelings Message Corner!
Message 1: A personality test! "You're looking at a poster, it has a flowery landscape, like a beautiful flower garden. From these choices, what flowers garden would you be looking at: 1. Rose Garden 2. Lavender Garden 3. Sunflower Garden 4. Lily of the Valley Garden"
Out of flowers, Kanon likes sunflowers the most, so, thats what she picks. The meaning of her answer is revealed to be her greatness percentage. "For choosing sunflowers, your greatness is at 40%; you don't have many objectives or much self-confidence. Regarding the color of the flower choice, when it comes to wishes and resolutions, it helps to go to bright places as they will help brighten your future," Kanon laughs at the silliness of the quizzes results, since they were so unusually negative. Reviewing her choices, if she had chosen rose she would have gotten a 90%, lavender 60% lily of the valley 10%. She doesn't know what to make of this, as she would simply pick sunflowers because she likes them and isn't so sure that the answer reflects herself very well.
Message 2: This listener has two tongue twisters for Kanon to try.
Kanon thinks she will be fine as she has found tongue twisters are a specialty of hers. She reads the first one slowly: "nashi no shin to nasu no shin wa nasu no shin to nashi no shin dake chigai nasu no shin to nashi no shin wa nashi no shin to nasu no shin dake chigau" but after reading it slowly Kanon's not so sure about her ability to on this one. After trying it, she complains that it's very difficult and has no idea what it means (me neither). Getting the ok to break it up a little, she reads the second tongue twister slowly, but messes up a lot on the slow fast reading, laughing all the way (I don't even know what it was 100% so I'm not going to bother guessing).
Message 3: Are you ever told from teachers that you aren't good at school, also are you good at doing what you're told?
As far as school goes, Kanon isn't great at studying for tests or doing homework, but when she gets decent marks she'll feel good about it, although it seems that none of her teachers believe she can actually do well. As far as doing what she's told, she'll tell the teacher she'll do her best at whatever it is and then usually not actually do it most of the time.
Message 4: This listener really liked Kanon's solo shot and points out her pretty eyes in the latest single. They ask Kanon to explain how she goes about preparing for the solo shots; what facial expressions to make and the like.
Kanon treats the solo shots preciously because she really likes them. Since dancing isn't her specialty, she can concentrate on her expressions and move on her own for the solo shot. For preparation, the day before the music video recording she'll sit in front of a mirror and decide what expressions would be good to use. Because Kanon doesn't have to actually sing, there is a sense of safety with lip syncing during the solo shot as she can focus on pronunciation rather than her actual voice. In Seishun Kozo ga Naiteiru, there are many lines that sounds like one is crying, but don't have a necessarily sad meaning; Kanon kept that in mind while practicing in front of the mirror. Receiving this positive feedback on her solo shot made Kanon think she will be even more conscious of the solo shot for the next music video.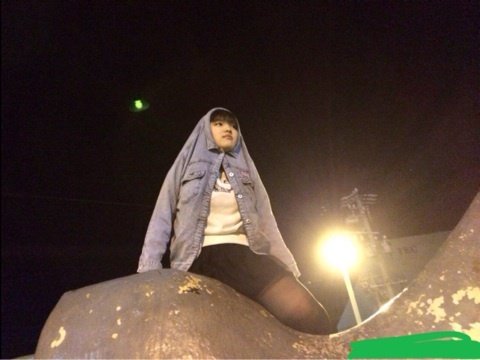 Couldn't find a gif of Kanon in Seishun Kozo, so take a look at this weird picture!
Kanon's Hungry Celebration!
A corner where food loving Kanon can receive recommendations on delicious food she should try.
Recommendation 1: Hippari Udon. Its a specialty from the writer's hometown, its the type of food you'd eat on cold winter days. The dish involves canned mackerel with the oil and as natto. Since they enjoy it so much, they'd like Kanon to try it too.
Sounds like the kind of ramen a college student would eat, Kanon comments. It sounds wonderful however, thinking to put natto, mackerel and noodles in a pot. The dish also originates from Yamagata, a prefecture Kanon loves, particularly for their stewed potatoes. So next time she visits Yamagata, perhaps she'll try Hippari Udon.
Recommendation 2: Something special from Niigata, Hanba Karaage. According to the writer, its a crispier and juicier type of karaage that that has a curry flavor to it. It goes great with a cold beer, as well.
Kanon is pretty impressed by this recommendation. The curry flavored chicken sounds delicious. Going back to Kanon's radio piano challenge, she received karaage as her prize for completing the challenge. But, it isn't something she eats normally, so, its really the best when she gets the chance to. It's her first time hearing about hanba karaage, but Kanon really wants to try it.
Recommendation 3: Before this listeners payday, their wallet was sad, so they made something they make when they are sad: a sunnyside up egg bowl. They added ham and bacon to the bowl, too. Their cooking method involved placing the eggs on top of the meat and then onto the rice, which they of course recommend Kanon trying herself.
Stomach growling, Kanon gushes that the dish sounds delicious. Although, it seems like fairly logical thing to make when you don't have much money. Kanon thinks she will try it when she is short on time.
Recently, in Hokkaido, she tried salmon roe bowl, which was amazing. It was so good that it made her very happy, so she really would like to try it again. Although, she won't be returning to Hokkaido for some time, probably not until the Summer Hello! Concerts begin. Until then, she will be dreaming of the salmon roe bowl.
Song: Kobushi Factory – Nen ni wa Nen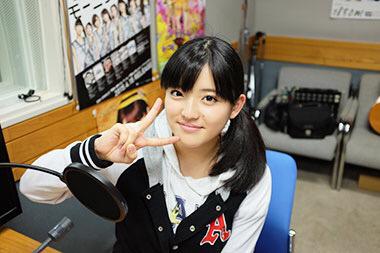 Otsukanon~!