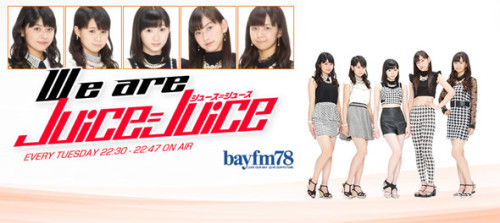 Mango
The opening word this time is mango. Sayubee explains. She says that at the Hello!Cons at Nakano Sun Plaza the catering menu included shaved ice with a variety of flavors, including mango, which was especially good. In her blog, Kanazawa Tomoko wrote that Sayubee had gotten shaved ice with lemon, but Sayubee wants us all to know that that was not the case; she did not get lemon, she got mango.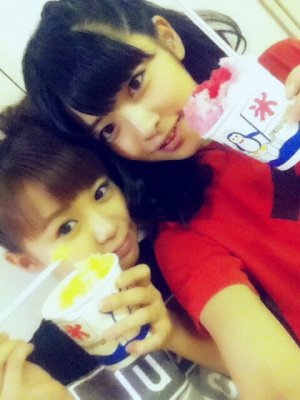 It's not lemon, it's mango, and this is apparently very important to know.
Fan Letter
This message is from Komakoma. They say that on the last show Sayubee suddenly announced a new song from Juice=Juice when they weren't expecting it, so they would like to hear more details about it. Sayubee and Yuka respond with the details, saying that it will be released on October 1, it's a double A-side, and the titles are Senobi and Date ja nai yo, uchi no jinsei wa. Sayubee asks Yuka, since she is the leader, if she could play one on the radio show today, and Yuka wholeheartedly agrees. Sayubee describes Senobi as a more mature song, very Juice=Juice, and almost painful in the lyrics. Yuka remarks that she had some trouble in recording because Tsunku told her that it wasn't pronounced like the normal 'senobi,' but it raises emphasis on the –no-, which was difficult to adjust to.
Song: Juice=Juice – Senobi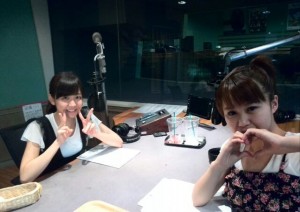 As they come up on September, Yuka asks Sayubee how she's feeling around this time of year following the formation of Juice=Juice. Sayubee says she's honestly feeling a lot happier and satisfied these days than when she was when Juice=Juice was first formed. She always thought she would be happy in the group eventually, it just took a little while to get there. Yuka sympathizes, saying that even though she was glad to debut in a group, so much of her feelings were focused on nervousness and anxiety that she couldn't really enjoy herself. Nowadays, especially after starting the tour, she feels that the sense of unity among the 5 members has really grown and she feels more than ever like they're actually a group. She also realizes that they're coming to the 1 year anniversary of the radio show and feels very grateful for that, as well.
Song: Juice=Juice – Kaze ni fukarete
Voice Blog
All-in-one by Miyazaki Yuka
Yuka loves skirts and dresses, so she always wears them. Lately, however, she has gotten interested in pants. She keeps thinking she'll try them out, but she usually ends up thinking about how they won't suit her and she ends up not trying them. However, she was shopping at a store she normally buys lots of clothes from and they had some new pants there, which she bought!
Yuka: So today I'm wearing them, um, they're black, and the shoulder parts are frilly, because, you know, they're connected… the pants, and, um… the top… part. I don't know what to call them but I looked it up online and it seems like they're called "all-in-one"? So I'm proud of them… am I? I don't know, but I tried!
She says she's happy with them and feels much more like an adult woman when wearing them, which means that she still doesn't have a grip on what clothes do suit her and what clothes don't. She now wants to try lots of different kinds of clothes, now. Sayubee says she always thinks of Yuka as a more mature person, but mentions how in the beginning all the members of Juice=Juice wore very mature clothing, while now they just kind of wear whatever they feel like. She thinks maybe they should try pulling their wardrobes together so that they look like they're part of the same group, at least.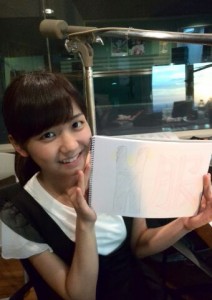 Watermelon
The two of them do rock-paper-scissors to decide who gives the ending word and Yuka wins (and Sayubee makes a very strange noise in response). She chose this word because there is a small watermelon in her refrigerator that she really wants to eat. They also may or may not have been eating some during the broadcast.