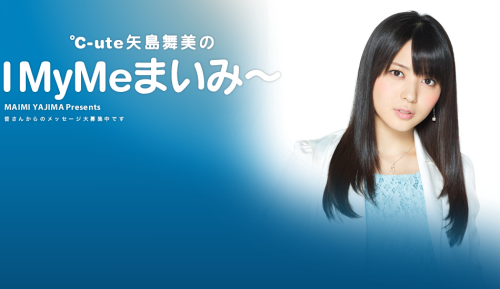 Maimi's photo book 'Pure Eyes' had just come out the day before the broadcast. She was still 21 when the shooting was done in Hawaii, yet she still enjoyed herself innocently despite being a grown-up.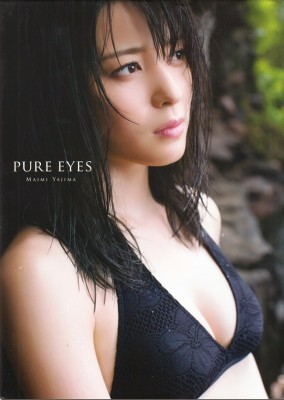 ♫ ℃-ute – Love Take it All ♫
This is the first time Deru-san's sending a message to the show. Deru-san came to like ℃-ute through Maimi. Also by association, they came to like Maimi's good friend, Tokunaga Chinami of Berryz Kobo. Their question: what led to Maimi-chan becoming really good friends with Chinami?
Maimi explains that she's been friends with Chinami from the very start, from the day of the live broadcast when they would announce the results of the H!P Kids audition. There, shy little Maimi was quietly sitting on a chair, having no one to talk with. Right after her in line was Chinami, who went 'This is nerve-wracking, isn't it~?'. They struck up a conversation and immediately became fast friends. Maimi was uneasy and looking for reassurance at the time, so finding out that she could get on well with Chinami untangled her nerves.
The first job they had was the movie 'Koinu Dan no Monogatari'. The shooting took place at a distant location, so they spent a long time travelling on buses. Chinami, who was seated next to Maimi throughout the journey, offered Maimi crispy plums, and they chatted about all sorts of things while munching on them.
Then they were split into Berryz Kobo and ℃-ute, so they couldn't always be together like before. Yet whenever they would meet, they'd always be together. The two of them had even gone for a meal recently, after they had wrapped up some work they had together. They had initially intended to go back home, but got to talking on the way back, and ended up going for a meal.
Chii really understands Maimi's personality. Maimi's bad with crowds, and they had gone to eat at Shibuya. For those unfamiliar with Shibuya station, it's a labyrinth that's packed with people, but Chinami helped guide Maimi – which platform to go to, which train line to get on. Maimi feels that Chii's like her guardian.
Maimi enjoys her time with Chii, and finds Chii to be a really delightful girl.