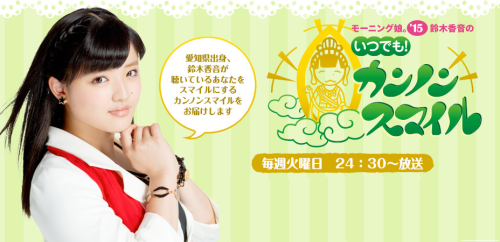 Its already June 9th, Kanon realizes. She wonders what people's impressions were from  the recent Morning Musume Budoukan performance. Regarding this tour, the MC corner would have a rotating two people and they would talk about a given subject. This is the first tour since Kanon started her radio show, so she felt that she was better at speaking this time around. Before, when there was something she wanted to talk about during an MC her heart would race as she spoke, worried she wouldn't say the right things during the discussion. However, because she is able to talk every week about what's on her mind, she can separate what she should say as to what's trivial during the discussion. So for this tour, she was able to properly plan what to say in advance. For example, on the radio show, she has been collecting postcards from Gifu prefecture and Morning Musume toured in Gifu for the first time in a long time. Because of the radio show, she knew what to talk about regarding the prefecture.
Song: Morning Musume – Roman ~MY DEAR BOY~
I, Suzuki Kanon Will Open Up To My True Feelings Message Corner!
Message 1: This writer asks if Kanon has any food and drink she likes to pair up. They like to pair taiyaki with roasted green tea.
She doesn't really have any, actually. Thinking for a moment, Kanon comes up with something. Although she can't eat it right now, she really enjoys butterscotch flavored bread and will drink it with yogurt drinks. Kanon really likes sweet bread, the big and round kind that can be found at convenience stores. Erina likes it too, Kanon says. The staff asks for her to go into more detail on what type of bread it is. Struggling, she explains its like a brown, circular bread with a sweet coating on it. Essentially, when Kanon buys that sort of bread she'll buy drinks like milk and yogurt, heavier things, and eat it with sweet bread.